Maple Roasted Carrot Salad
November 3, 2016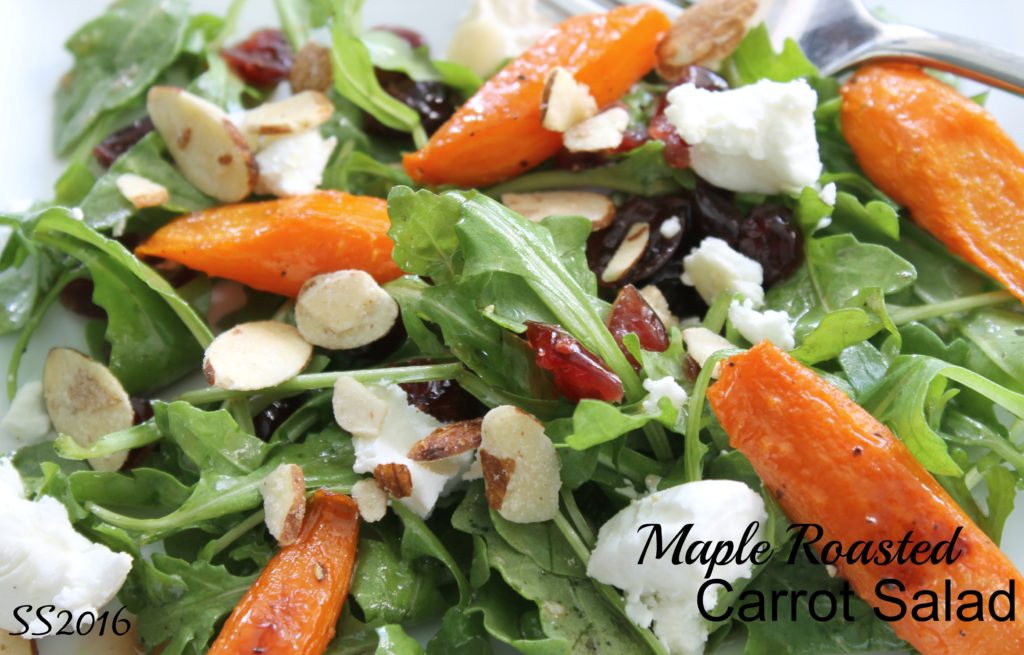 A seasonal salad chock-full of ingredients we love this time of year. By roasting the carrots, they don't just become tender, they become sweeter with delicious caramelized edges. The carrots are sliced diagonally to give them more surface to caramelize. Adding maple syrup sweetens them to the next level. Adjust the syrup to your liking. The flavors of orange and cranberry shine in this simply prepared dressing.
Maple Roasted Carrot Salad
Serves 4 as an entree,  6 as a side dish
2 pounds carrots, preferably with leafy tops
Olive oil
Kosher salt and freshly ground black pepper
¼ cup pure Grade A maple syrup (optional per preference)
2/3 cup dried cranberries
2/3 cup freshly squeezed orange juice (2 oranges)
3 tablespoons sherry wine vinegar
2 garlic cloves, grated on a Microplane
6 ounces baby arugula
6 ounces goat cheese, such as Montrachet, medium-diced
2/3 cup roasted, salted Marcona almonds, or slivered
Preheat the oven to 425 degrees.
Trim and scrub the carrots. Try to buy carrots less than 1″ in diameter. Cut the carrots in diagonal slices 1 inch wide × 2 inches long (they will shrink when they roast) and place in a medium bowl with ¼ cup of olive oil, 1 teaspoon salt, and ½ teaspoon pepper. Toss well and transfer to two sheet pans. They need to be single layer to roast properly. Roast for 20 minutes, tossing once, until the carrots are tender.
**** Add this step if   1. You like the flavor of maple syrup. 2. Want the carrots sweeter. Transfer all the carrots to one of the sheet pans, add the maple syrup, toss, and roast for 10 to 15 minutes, until the edges are caramelized. Watch them carefully!
Combine the cranberries and orange juice in a small saucepan, bring to a simmer, then set aside for 10 minutes.
In a small bowl, combine the vinegar, garlic, and ½ teaspoon salt. Whisk in 3 tablespoons of olive oil. Place the arugula in a large bowl and add the carrots, cranberries (with their liquid), goat cheese, almonds, and the vinaigrette. (Do not over dress). Toss with large spoons, sprinkle with salt, and serve at room temperature.
Adapted from: Ina Garten