Dark-Chocolate Bark with Dried Cranberries, Candied Ginger and Pepitas
December 6, 2016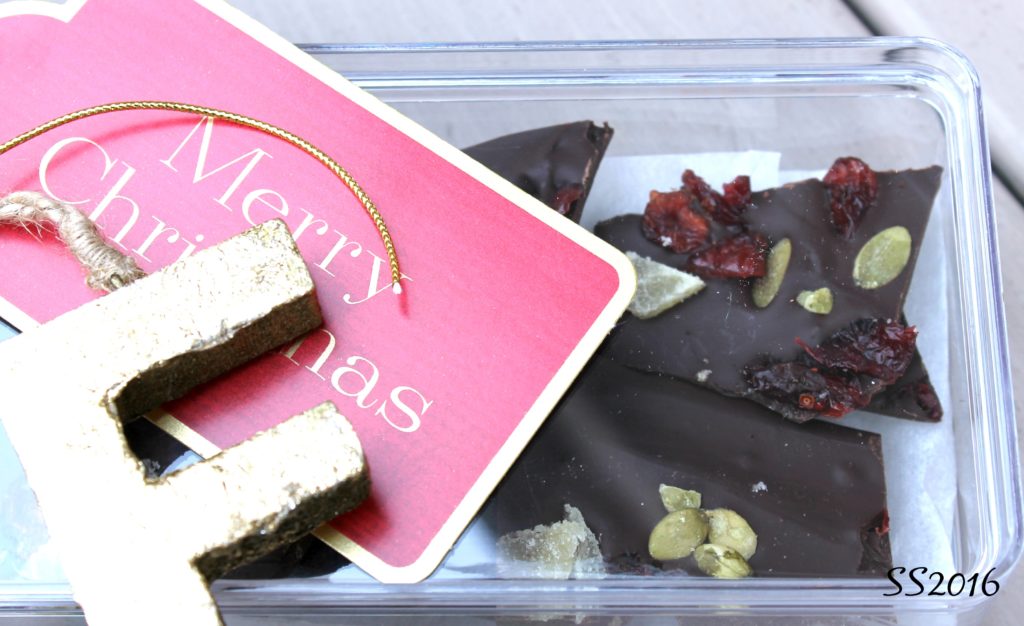 Christmas bark is a great option for a quick and tasty hostess gift. It requires only a few ingredients that you most likely have on hand. Making bark can be as creative as you want to make it and NO BAKING REQUIRED. I chose sweet cranberries, candied ginger and pepitas…sweet and salty with a kick.
Dark- Chocolate with Dried Cranberries, Ginger and Pepitas
1/2 cup of salted pepitas (pumpkin seeds)
9 ounces bittersweet chocolate, finely chopped
1 cup dried cranberries (4 ounces)
2 tablespoons finely chopped candied ginger
The above measurements can be adjusted to your taste.
Line a baking sheet with parchment or wax paper. In a glass bowl, heat two-thirds of the chocolate over simmering water once melted add the remaining chocolate. (OR in a microwave oven at high power in 30-second bursts until just melted. Stir until smooth. Add the remaining chocolate and stir until melted). Scrape the mixture onto the prepared baking sheet and spread it into a 12-by-8-inch rectangle. Place your cranberries, ginger and pepitas over the chocolate. Gently press down the ingredients with the back of a spoon. Refrigerate until firm enough to cut (about 30 minutes).
Cut the bark into pieces and transfer to a plate. Serve cold or at room.
The bark can be kept in an airtight container at room temperature for up to 4 days or refrigerated for up to 2 weeks.
When melting chocolate in a microwave oven, be sure to give the chocolate a quick stir between each 30-second burst to prevent it from scorching.
Be creative and combine any of the following for sweet and savory combinations.
Dried and candied fruits and peels
Nuts: raw or toasted and plain, or seasoned with sweet or savory spices or herbs
Trail mixes or other salty snack mixes
Cookies or pretzels that you can chop or crumble
Toasted seeds or grains
Coconut flakes