Skillet-Roasted Lemon Chicken
January 2, 2017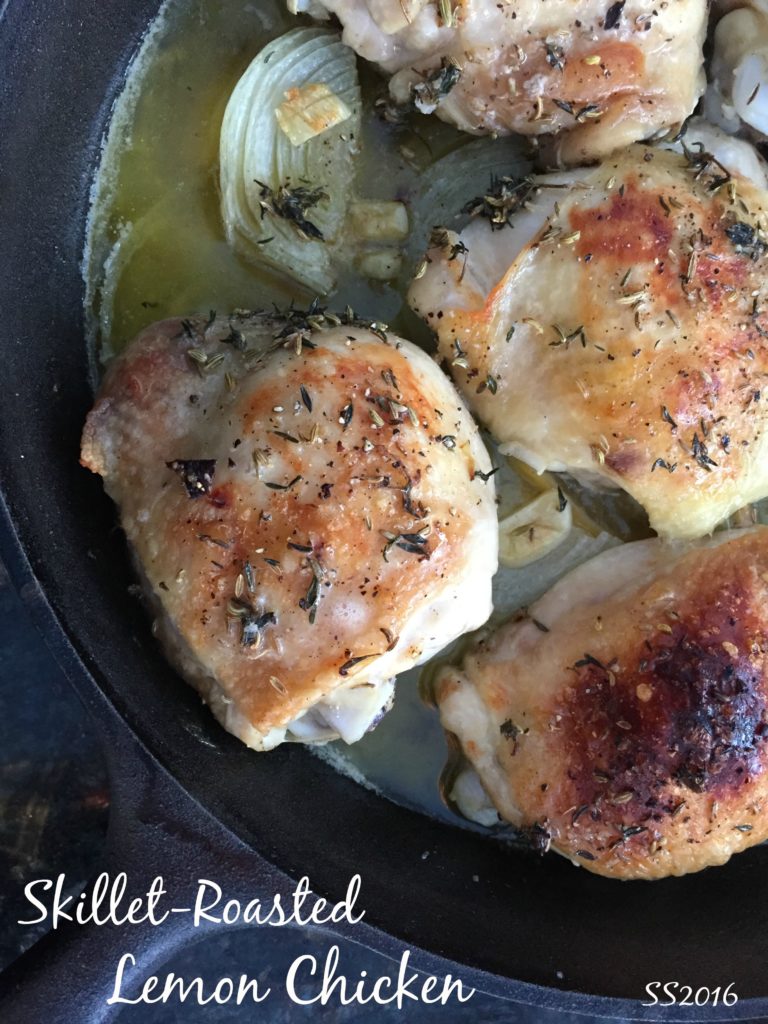 Here's a quick and easy skillet dinner to start off the New Year. You simply brush a mixture of olive oil, thyme, fennel seeds, salt and pepper on the chicken and place them on a bed of lemon slices and onions. A splash of wine while cooking turns the juices into a creamy sauce for a memorable one-pan meal.
Skillet-Roasted Lemon Chicken
Serves 4-6
2 teaspoons fresh thyme leaves
1 teaspoon whole fennel seeds
Kosher salt and freshly ground black pepper
1/3 cup good olive oil
1 lemon, halved and sliced 1/4-inch thick
1 yellow onion, halved and sliced 1⁄4-inch thick
2 large garlic cloves, thinly sliced
8 boneless chicken thighs, skin on
1/2 cup dry white wine
1 lemon, juiced
Preheat the oven to 450 degrees
Place the thyme, fennel seeds, 1 tablespoon salt, and 1 teaspoon pepper in a mini food processor and process until ground. Pour the olive oil into a small glass measuring cup, stir in the herb mixture, and set aside.
Distribute the lemon slices in a 12-inch cast-iron skillet and distribute the onion and garlic on top. Place the chicken, skin side down, on top of the onion and brush with about half the oil and herb mixture. Turn the chicken skin side up, pat it dry with paper towels and brush with the rest of the oil and herb mixture.
Roast the chicken for 30 minutes. Pour the wine into the pan (not on the chicken) and roast for another 10 to 15 minutes, until a meat thermometer inserted into the thickest part of the breast registers to 160 degrees.
Remove the chicken from the oven, sprinkle it with the lemon juice, cover the skillet tightly with aluminum foil, and allow to rest for 10 to 15 minutes. Sprinkle with salt, and serve hot with the pan juices, cooked lemon, and onion. Serve over brown rice.
Make-ahead tip: Assemble the chicken in the pan and refrigerate for a few hours before roasting.
Adapted from: Ina Garten