Greek Salad with Marinated Flank Steak
January 11, 2017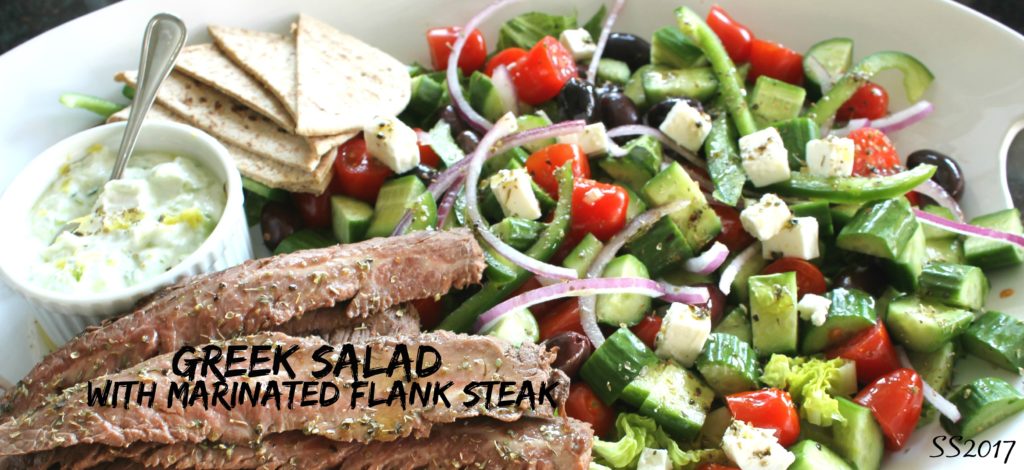 Healthy Mediterranean cuisine for a perfect and refreshing weeknight salad. All the classic Mediterranean ingredients are present…kalamata olives, cherry tomatoes, seedless cucumbers, green peppers and Feta cheese on a bed of Romaine lettuce. Adding flank steak makes for a hearty entree but feel free to swap out for a couple of chicken breasts. I like adding Tzatziki, with its bright flavor, as a schmear for the flatbreads and an accompaniment to the vegetables. This hearty salad holds up nicely for leftovers.
Greek Salad with Marinated Flank Steak
Serves 4
1 flank steak
4 Flatbreads (store-bought)
Marinade / Dressing
¼ cup olive oil
¼ cup lemon juice (1 lemon)
1 tablespoon red wine vinegar
2 teaspoons minced garlic
2 tablespoons dried oregano
1 teaspoon salt
Cracked pepper
Tzatziki 
1 cup plain Greek yogurt
1 tablespoon olive oil
1 Lebanese cucumber, peeled, deseeded and grated
1 clove of garlic, minced
1 tablespoon lemon juice
Pinch of salt
Salad
3 Lebanese (or English) cucumbers, halved lengthways and sliced thick
8 oz cherry tomatoes
1 green pepper, sliced
½ red onion, sliced thinly
7 oz marinated Feta cheese, cubed
½ cup pitted Kalamata olives
Romaine lettuce, sliced (optional)
Whisk together the marinade / dressing ingredients in large, shallow dish. Pour out ⅓ cup to use as the dressing. Add the flank steak to the marinade and evenly coat; cover and allow to marinade for 30 minutes or up to 8 hours in the refrigerator.
While steak is marinating, prepare tzatziki. Combine tzatziki ingredients in a bowl and mix well. Cover and refrigerate until ready to serve.
Toss salad ingredients together and divide between four plates.
Heat a grill pan / skillet over medium-high heat. Remove the steak  from the marinade and add to the pan. Sear until the steak is cooked through, about 5 minutes on each side (depending on the thickness of the steak).
Remove steak from the pan, allow to rest for 5 minutes. Slice and arrange on salad. Slice the flatbread and arrange on salad plates. Drizzle with the reserved dressing and serve with the tzatziki.
Adapted from: Cafe Delites