Sweet and Spicy Chicken Stir-Fry
January 15, 2017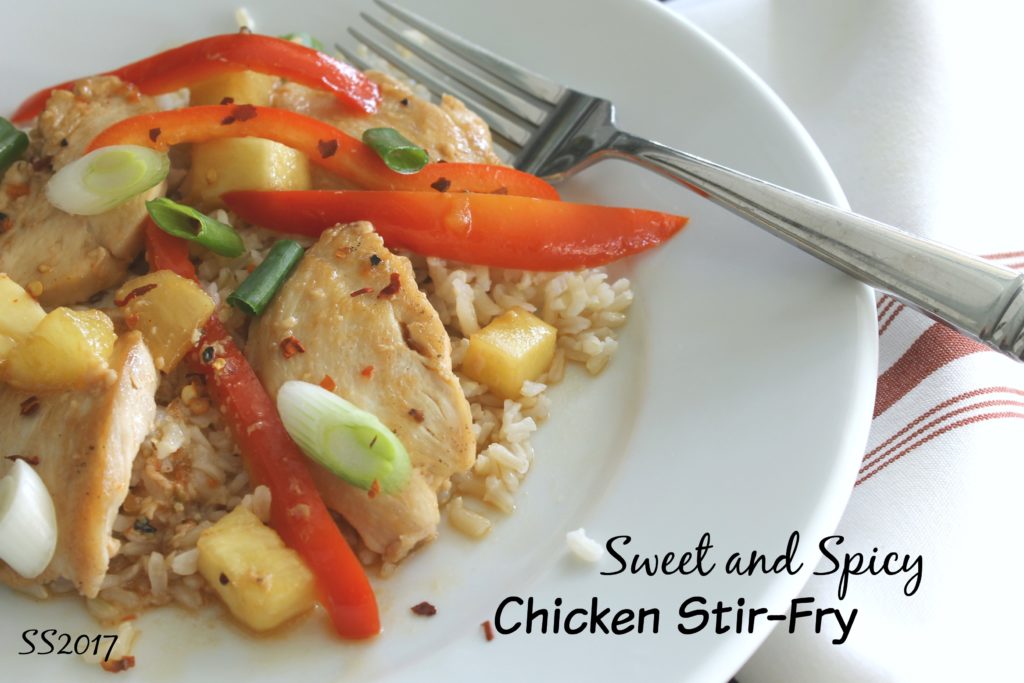 Do you have any left over red pepper jelly from the holidays? I did… thanks Biz. That single ingredient was the inspiration for this Asian inspired dish. Why order carry-out when this delicious low-calorie meal is ready in 15 minutes. You will likely have most of these ingredients in your pantry. Sweet and sour with a kick. When a recipe makes your rotation list, you know it's a winner!!  Serve over brown rice.
Sweet and Spicy Chicken Stir-Fry
Serves 3-4  (or two hungry people)
1 tbsp canola oil
2 chicken breasts, thinly sliced
1/2 red bell pepper, thinly sliced
1 cup finely chopped pineapple
*1/4 cup red pepper jelly
*3 tbsp lemon juice
*2 tbsp light soy sauce
1/2 tsp hot-red-chili-flakes
1 green onion, thinly sliced
HEAT a large non-stick frying pan over medium-high. Add oil, then chicken. Stir-fry chicken for 3 to 4 min. Add pepper, pineapple, red pepper jelly, lemon juice, soy and chili flakes. Cook until pepper is tender-crisp, about 2 to 3 more min. Sprinkle with green onion. Serve over rice.
*The second time I made this I doubled the sauce. (jelly, lemon juice and soy) LOVE how it soaks up the rice.
Adapted from: Chatelaine