Simple Beet, Arugula and Feta Salad
January 28, 2017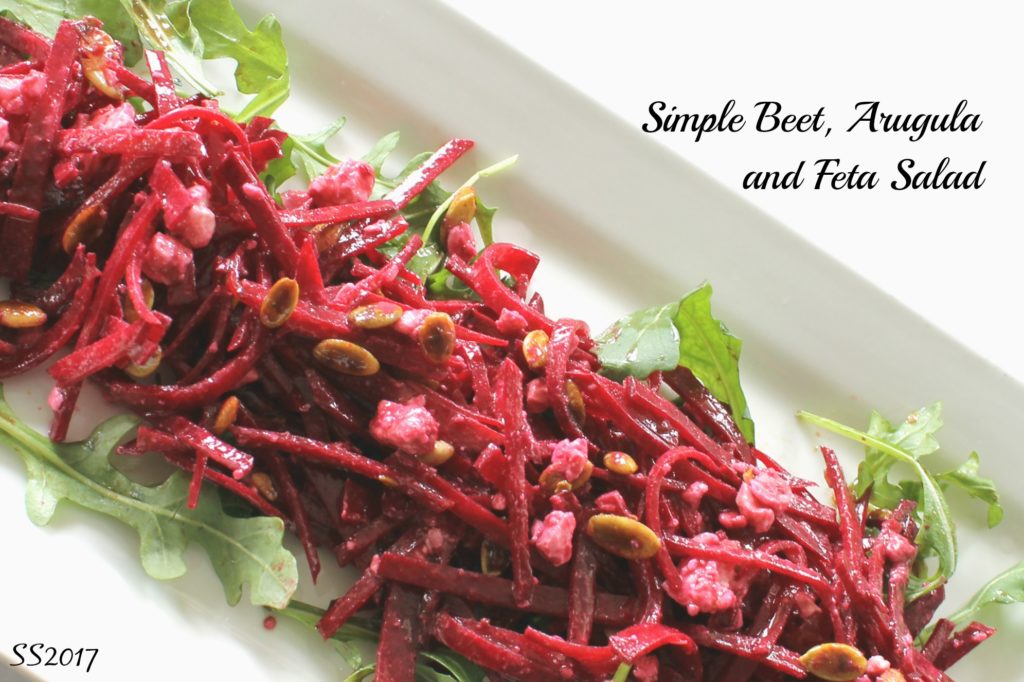 I love beets. But even if you're a hater PLEASE give this simple (15 minutes, 4 ingredients) garnet-hued salad a try. The beets are raw and take on a completely different flavor. This salad is earthy, bitter, savory and sweet…with a crunch.  This will be part of my Valentine's Day menu. Additional salad ideas…..Beet and Goat Cheese Napoleon Salad or Blood Orange and Fennel.
Simple Beet, Arugula and Feta Salad
Serves: 2 entrée size or 4 small
2 tablespoons pipitas or pistachios, toasted
2 medium red beets
Handful arugula, roughly chopped
¼ cup crumbled feta cheese (or goat)
Balsamic Dressing
2 tablespoons honey
1 tablespoon dijon mustard
1/2 teaspoon salt
1/2 teaspoon ground pepper
1/4 cup balsamic vinegar
3/4 cup extra virgin olive oil
1 garlic clove, crushed
In mixing bowl measure honey, mustard, salt, pepper, vinegar and crushed garlic. Stir to combine. Slowly whisk in olive oil until emulsified.
First, toast the pepitas in a skillet over medium heat until fragrant and making little popping noises, about 5 minutes. Transfer and cool.
Peel the rough skin from the beets with a vegetable peeler. If you have a mandoline, use it to slice the beets into thin match sticks. Or slice with a knife into VERY thin rounds. Working in batches, stack a bunch and  slice them into long, thin match sticks.
In a medium-sized serving bowl, combine the beets, arugula, crumbled feta and pepitas. Drizzle in just enough dressing (you will have a least half left over for another salad) to lightly coat the salad once tossed.
Adapted from: cookieandkate