A Simple Carrot Soup
February 18, 2017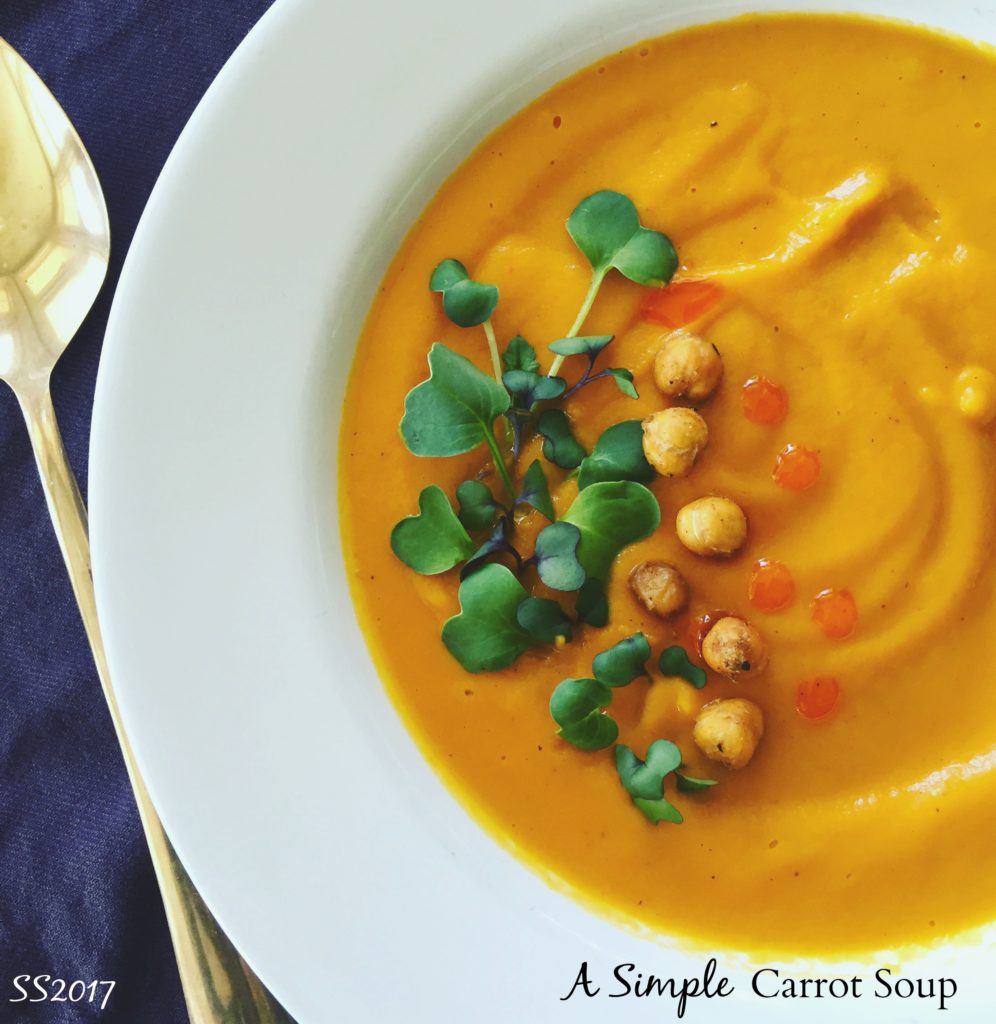 This is the simplest of carrot soups. It has 5 ingredients….onions, carrots, curry paste, coconut milk and lime. Saute and puree. To finish be creative. I topped with a squeeze of lime, micro-greens, roasted chickpeas and a few dollops of chili oil. Enjoy a bowl of warm, cozy, healthy and healing soup.
A Simple Carrot Soup
Serves: 4 large bowls
2 tablespoons unsalted butter or extra-virgin coconut oil
1 onion, chopped
1 tablespoon red curry paste, or to taste
2 pounds carrots, peeled and chopped – 1/2-inch chunks
1 14-ounce can full-fat coconut milk (for us I used lite) don't skip for entertaining
1 1/2 teaspoons sea salt, or to taste
1 1/2 cups water, or to cover
1 lime
Garnish: micro greens OR cilantro; toasted almonds OR roasted chickpeas, chili oil.
In a large soup pan over medium-high heat add the butter and onion. Stir until the onions are well-coated, and allow to saute until translucent, a few minutes. Stir in the curry paste, and then the carrots. Allow to cook another minute or two, and then add the coconut milk, salt, and water, adding more water to cover if needed. Allow to simmer until the carrots are tender, 10 – 15 minutes, and then puree using a blender or hand blender until the soup is completely silky smooth.
Next (with any soup) – you need to make adjustments. Add more water if the consistency needs to be thinned out. Taste for salt, add more if needed. Next season with a squeeze of lime juice.
Garnish to your desire. I think a squeeze of lime, cilantro (adds a ton of flavor), dollop of chili oil, and chickpeas are the PERFECT garnish.
Serve with toasted pita wedges (to toast, brush with olive oil and sprinkle with za'atar).
Adapted from: 101 Cookbooks