Sear-Roasted Halibut with Blood Orange Salsa
February 25, 2017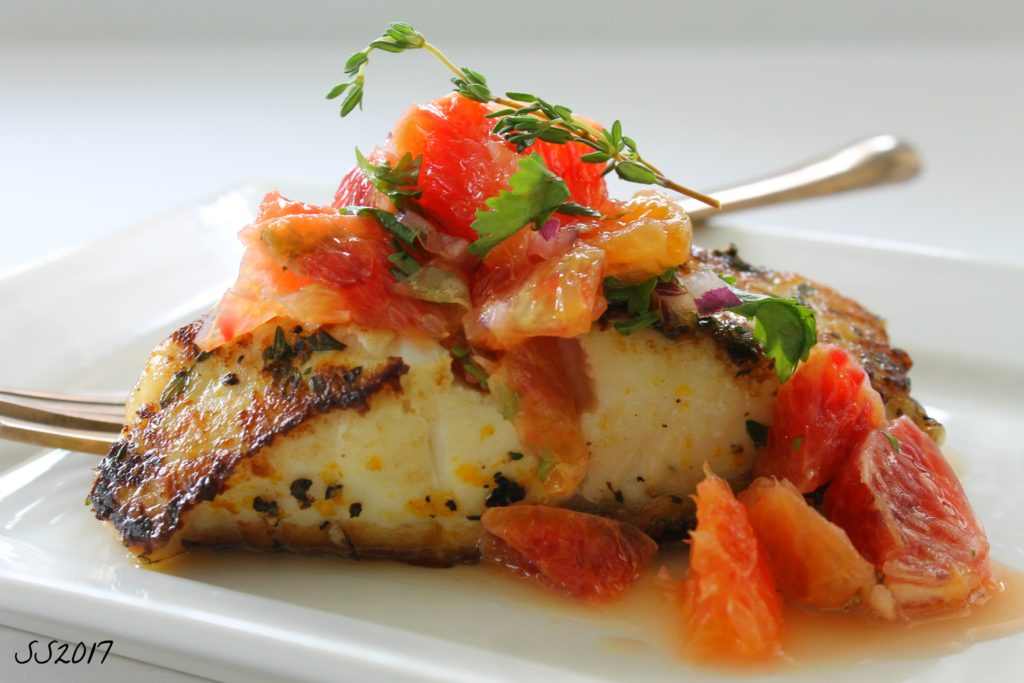 Enjoy citrus as lemons, limes, grapefruits and oranges are at their peak right now. And blood oranges, with their beautiful pink/red color, create the perfect salsa to accent this flaky white fish. This dish is easy to prepare…start with a sear on the stove and finish in the oven for a crisp and moist winter entree.
Sear-Roasted Halibut with Blood Orange Salsa 
Serves 4
For the salsa
3/4 cup fresh navel or Valencia orange juice (from 2 medium oranges)
3 small blood oranges, cut into segments, segments cut in half
2 Tbs. minced red onion
1 Tbs. chopped fresh cilantro
1 Tbs. extra-virgin olive oil
1 Tbs. finely grated navel or Valencia orange zest (from 2 medium oranges)
Kosher salt and freshly ground black pepper
For the Halibut
1 tsp. finely grated navel or Valencia orange zest (from 1 small orange)
1 tsp. chopped fresh thyme
Kosher salt and freshly ground black pepper
4 6-oz. skinless halibut fillets
3 Tbs. olive oil
Pre-heat oven to 425 degrees.
Make the salsa
In a small saucepan, boil the orange juice over medium heat until reduced to 1/4 cup, 8 to 10 minutes. Let cool.
In a medium bowl, combine the reduced orange juice, blood orange segments, onion, cilantro, olive oil, and orange zest. Season to taste with salt and pepper.
Cook the halibut
In a small bowl, mix the orange zest, thyme, 1-1/2 tsp. salt, and 1/2 tsp. pepper. Rub the mixture all over the halibut fillets. Heat the oil in a 12-inch ovenproof skillet over medium-high heat. When the oil is shimmering hot, arrange the fillets in the pan. Sear for about 2 minutes without moving; then use a thin slotted metal spatula to lift a piece of fish and check the color. When the fillets are nicely browned, flip them and put the pan in the oven.
Roast until the halibut is just cooked through, 3 to 5 minutes. Remove the pan from the oven and transfer the halibut to serving plates. Spoon some of the salsa over each fillet.
Serve with a simple green salad and rice.
Adapted from: Fine Cooking