Mini Guinness Chocolate Floats
March 11, 2017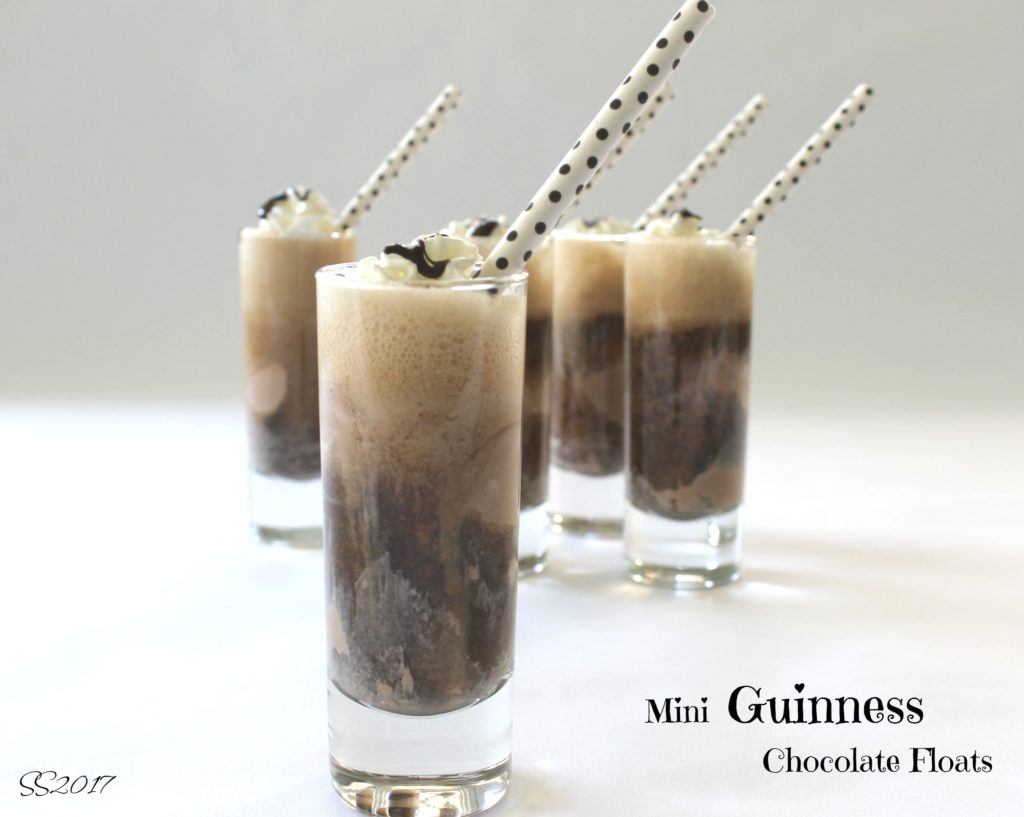 I love a full bodied stout. I love coffee. I love chocolate. These mini floats combine all those flavors in one or two tasty sips. The Guinness, with its rich, creamy notes, is the perfect partner for chocolate ice cream. Boozy whipped cream is a terrific topper. Take a look at additional ideas for St. Pats. Corned beef and Cabbage egg rolls. Flatbread. Corned beef and Guinness caramelized onions grilled cheese. St. Paddy's Day stuffed potatoes.
Mini Guinness Chocolate Floats
Makes 6 shooter sized floats
1 – 12oz bottle Guinness Extra Stout
3/4 cup of chocolate ice cream
Whiskey Whipped Cream (recipe below) and Chocolate Sauce for serving
Place 2 tablespoons of ice cream in each of 6 small shooter glasses. Top each glass with 2 oz of Guinness Extra Stout and serve with whipped cream and chocolate sauce
Whiskey Whipped Cream
Makes about 1 cup of whipped cream
1/2 cup of heavy whipping cream
1 Tablespoon of powdered sugar
1 teaspoon of Irish whiskey
In the bowl of a stand mixer fitted with whisk attachment, beat heavy cream until thick and fluffy. Add powdered sugar and whiskey and beat until just incorporated. Extra cream can be stored in the fridge for up to 2 days.
Adapted from: Jelly Toast