Watermelon Radish and Smoked Salmon Salad with Lemon-Dill Dressing
March 25, 2017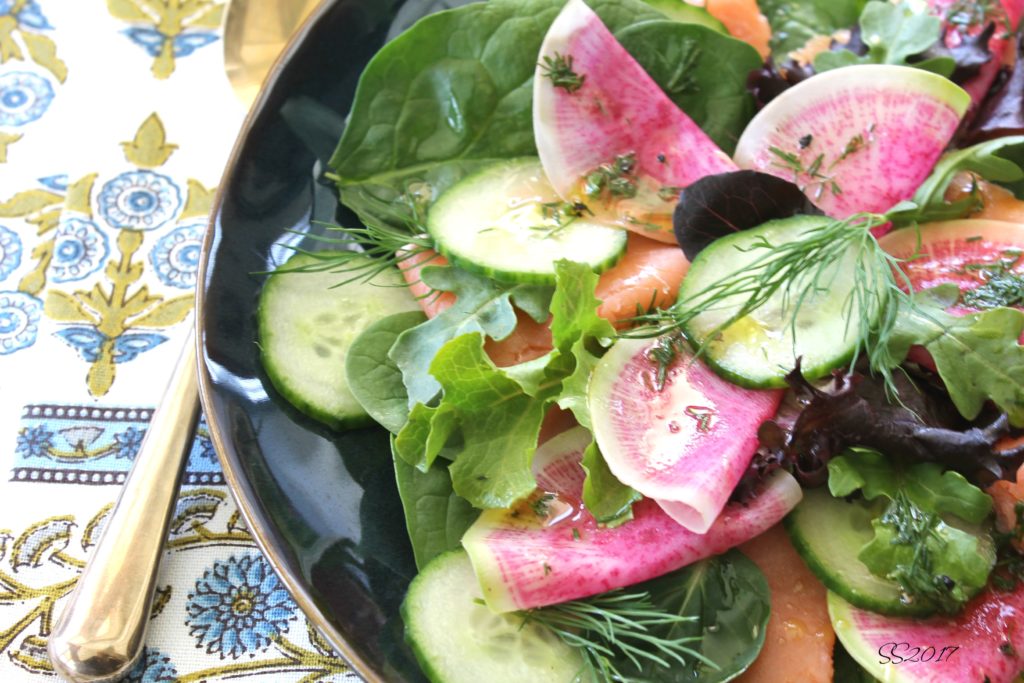 The star of this salad, watermelon radishes, are named for their vibrant pink centers. They taste like other radishes; slightly sweet and a bit peppery.  A mix of seasonal greens, english cucumbers and smoked salmon, along with the lemon dill dressing complete this colorful spring dish.
Watermelon Radish and Smoked Salmon Salad with Lemon-Dill Dressing
Serves 4
3 tablespoons extra-virgin olive oil
2 tablespoons fresh lemon juice
2 tablespoon chopped dill
Kosher salt and freshly ground pepper
8 cups baby spinach (7 ounces) or a mix of spring greens
6 ounces thinly sliced smoked salmon, cut crosswise into 1/2-inch ribbons
1 medium English cucumber—peeled, halved lengthwise, seeded and thinly sliced
2 radishes, halved and thinly sliced  (only used 2 because of the size)
2 scallions, thinly sliced (optional)
In a large bowl, whisk the olive oil with the lemon juice and dill and season with salt and pepper. *Add the spinach (and additional greens), smoked salmon, cucumber, watermelon radishes (slice with a mandolin if you have one) and scallions to the bowl and toss well. Transfer the salad to plates and serve.
*I preferred to arrange the salad on serving plates and then drizzle with dressing.
*Additional ingredients….soft cheese (goat) and capers.
Adapted from: Food&Wine