One-Pot Lemon Scallop Pea Pasta
April 2, 2017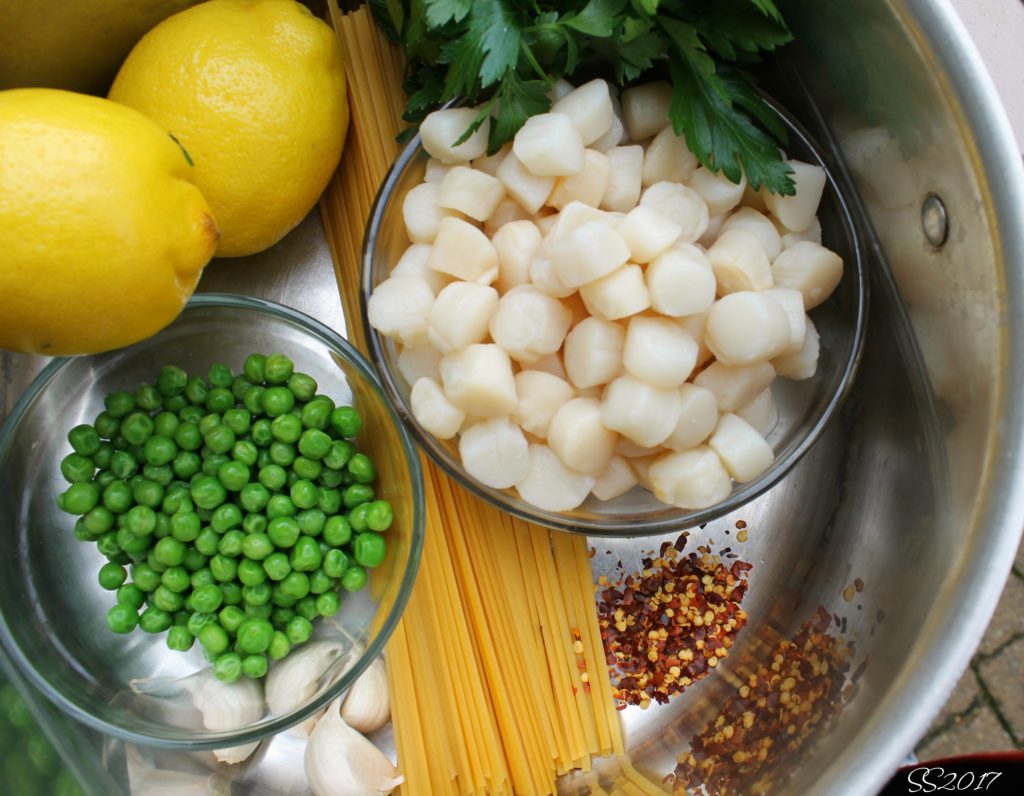 Here's a tasty one-pot meal. The buttery scallops, silky pasta and seasonal sweet peas combine with a delicate lemony sauce to have dinner on the table in just 30 minutes.
One-Pot Lemon Scallop Pea Pasta
Serves 3-4
1/4 cup olive oil
1 lb small scallops,  Frozen (thawed) scallops are perfect for this recipe
4 cloves of garlic, minced
1 teaspoon red pepper flakes
2 1/2 cups low-sodium chicken stock
1/2 pound spaghetti
1 lemon, zested and juiced (about 1/4 cup juice)
3/4 cup peas, defrosted
1/4 cup roughly chopped flat leaf parsley
Salt and freshly ground pepper
Pat the scallops dry and season all sides generously with salt and pepper. Heat up a small amount of olive oil over medium high heat and cook the scallops until golden brown on both sides, 1-2 minutes per side. (My scallops did not brown up, I may have put too much oil in the pan. Do not over cook just to brown). Remove from the pan and set aside.
Add the remaining olive oil to the pan and turn the heat to medium. Add the garlic and red pepper flakes, and cook, stirring, until the garlic is slightly golden, but not brown, about 1 minute. Add the chicken stock and uncooked pasta. Bring to a boil and then turn down to low. Cover and cook for 8 minutes.
Remove the cover and simmer to reduce the sauce, stirring occasionally, about 5 minutes (this step really does thicken the sauce). Remove from the heat and stir in the scallops, defrosted peas, lemon juice, lemon zest, and flat leaf parsley. Season with salt and freshly ground pepper. You could serve with shards of Parmesan cheese.
Adapted from: I Am A Food Blog