Tomato Mint Quinoa
April 11, 2017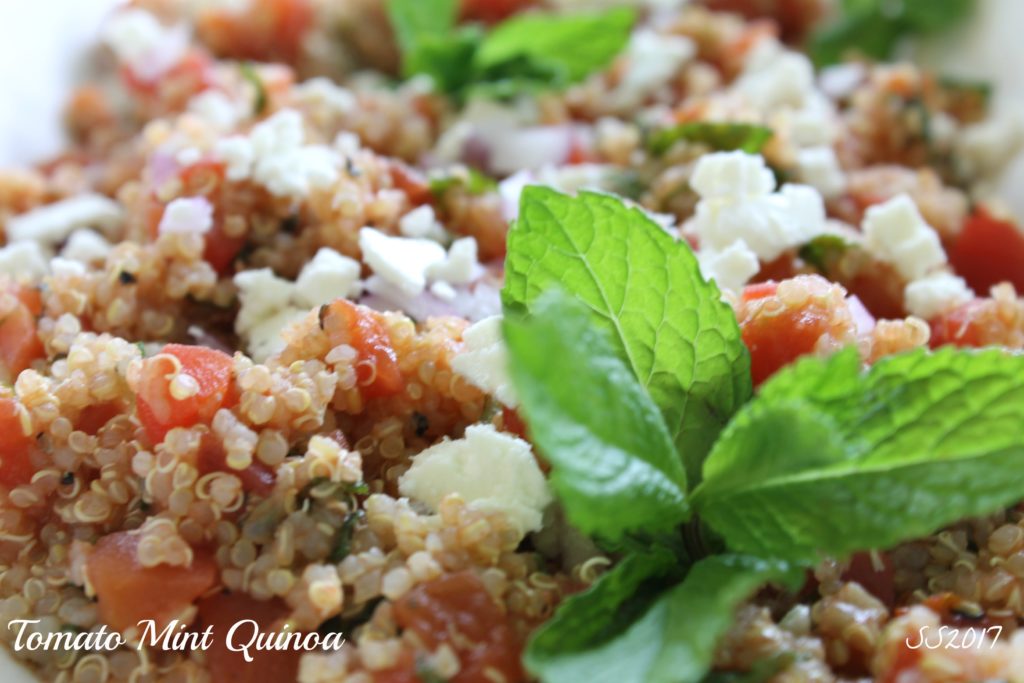 This Easter I'm grilling lamb chops, served with a mint pesto. I need a side. A gluten-free side. With family members needing to follow a strict diet, this recipe is the perfect companion for lamb. (If not using quinoa, I would choose Israeli Couscous). Served warm or at room temperature, the quinoa comes alive with the garlic, tomatoes, mint, red onion and feta.
Tomato Mint Quinoa
Serves 4-6
1 1/2 cup quinoa
water
2 tbsp olive oil
3 garlic cloves, chopped
1 14.5 oz can petit tomato diced
Salt and pepper
1 cup chopped fresh mint leaves, more for garnish
1/2 cup finely chopped red onion
1/3 cup crumbled feta cheese
Cook the quinoa according to the package adding a dash of salt and olive oil to the cooking water.
In a non-stick pan, heat 2 tbsp olive oil on medium-high. Lower the heat to medium and stir in the chopped garlic. Cook for 1 minute or less and then add the canned diced tomatoes. (I didn't add all the juice in the can for a dryer dish). Season with salt and pepper and cook for 4-6 minutes, stirring occasionally. Now stir in the cooked quinoa. Once warmed through, add the chopped fresh mint. Stir to combine and remove from heat.
When ready to serve, transfer the quinoa to serving bowls topping each with a portion of the finely chopped red onions, feta cheese and more fresh mint leaves for garnish.
Adapted from: themediterraneandish