Classic Key Lime Pie
April 24, 2017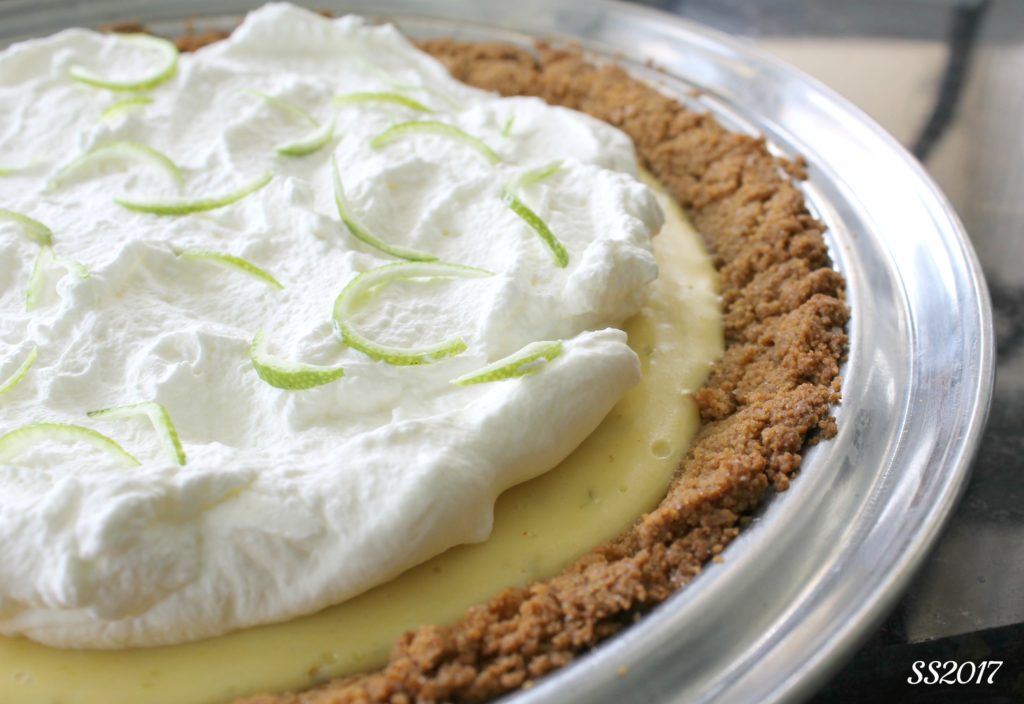 Spring Break. Florida. Key Lime Pie. It's tart, sweet, rich, creamy and perhaps the easiest pie you'll ever make.  Top the pie with freshly whipped cream and garnish with strips of zest. Your first taste will have you dreaming of white sand beaches.
Classic Key Lime Pie
Crust
1 1/2 cups finely ground graham cracker crumbs (about 10 crackers)
3 tablespoons  granulated sugar
2 pinches sea salt
7 tablespoons unsalted butter, melted
Filling
1 1/2 tablespoons finely grated lime zest
3 large egg yolks
1 14-ounce can sweetened condensed milk
2/3 cup fresh lime juice (from about 1 dozen tiny key limes or 4 regular limes)
Whipped Topping
3/4 cup (175 ml) heavy whipping cream
**1 to 2 tablespoons powdered or granulated sugar, to taste
**I left the whipping cream without sugar, I feel it balances the   sweetness of the pie.
Preheat oven to 350°
Make crust: Combine graham crumbs, sugar and salt in a medium bowl and stir until mixed. Add butter and stir until crumbs are evenly coated. Press crumbs into the bottom and up the sides of a standard 9-inch pie dish. Use the outer edge of a heavy measuring cup to press in neat, firm sides. Bake crust until lightly browned, about 10 minutes. Set on cooling rack while you prepare filling. Leave oven on.
Make filling: Zest limes into the bottom of a medium bowl until you have 1 1/2 tablespoons. Beat zest and egg yolks with an electric mixer until pale and thick, about 5 minutes. Add sweetened condensed milk and beat until thickened again, about 3 minutes more. Squeeze zested limes until you have 2/3 cups juice. Whisk into yolk mixture until combined. Pour into graham crust and bake pie for another 10 minutes, until set but not browned on top at all. Let pie cool completely before adding topping.
Make topping: In a medium bowl, beat cream (and sugar, if using) until soft peaks are formed. Spread over top of chilled pie. Ideally, pie should be chilled at least another 2 to 3 hours with the cream on top so that it can fully set before you take a slice.
Key lime pie keeps in fridge for about a week.
Adapted from: Smitten Kitchen