Herby Avocado Hummus
May 4, 2017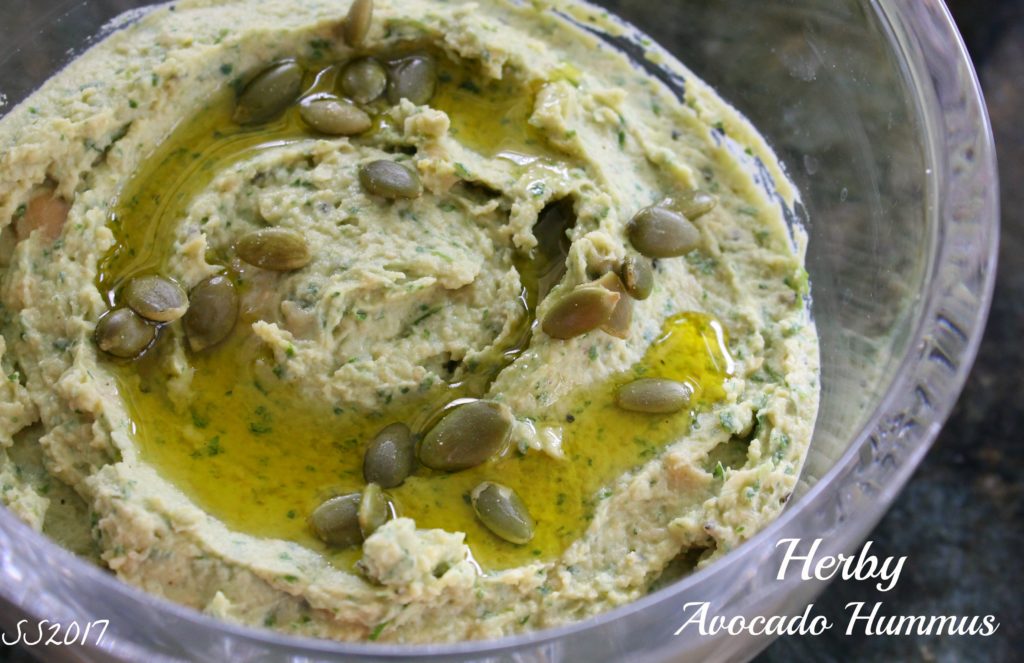 Enjoy this quick and easy hummus that is a delicious change from the classic version. It's extra creamy and rich in healthy fats….the perfect companion for veggies or chips. Happy Cinco De Mayo!
Herby Avocado Hummus
Makes about 2¼ Cups
½ large ripe avocado
1 15½-ounce can chickpeas, rinsed, drained
⅓ cup tahini, well mixed
¼ cup plus 1 tablespoon fresh lime juice
1 garlic clove, finely grated or smashed to a paste with flat side of knife on cutting board
¾ teaspoon (or more) kosher salt
10 cranks freshly ground black pepper
¼ teaspoon ground cumin
1 cup cilantro leaves with tender stems
2 tablespoons olive oil, plus more for drizzling
Toasted pumpkin seeds (pepitas; for serving)
Process avocado, chickpeas, tahini, lime juice, garlic, salt, pepper, cumin, and 1 cup cilantro in a food processor until smooth, about 1 minute. With the motor running, stream in 2 tablespoon of oil, then continue to process until hummus is very light and creamy, about 1 minute longer. Taste and season with salt, if needed.
Transfer hummus to a shallow bowl. Top with pepitas and cilantro and drizzle with more oil.
Do Ahead: Hummus can be made 4 days ahead. (I know, crazy!) If making this ahead of time, press plastic directly onto the surface before covering and chilling to prevent the mixture from turning brown on top. Use an airtight container.
Recipe by Claire Saffitz/ Bon Appetit