Italian Spaghetti Pasta Salad
May 26, 2017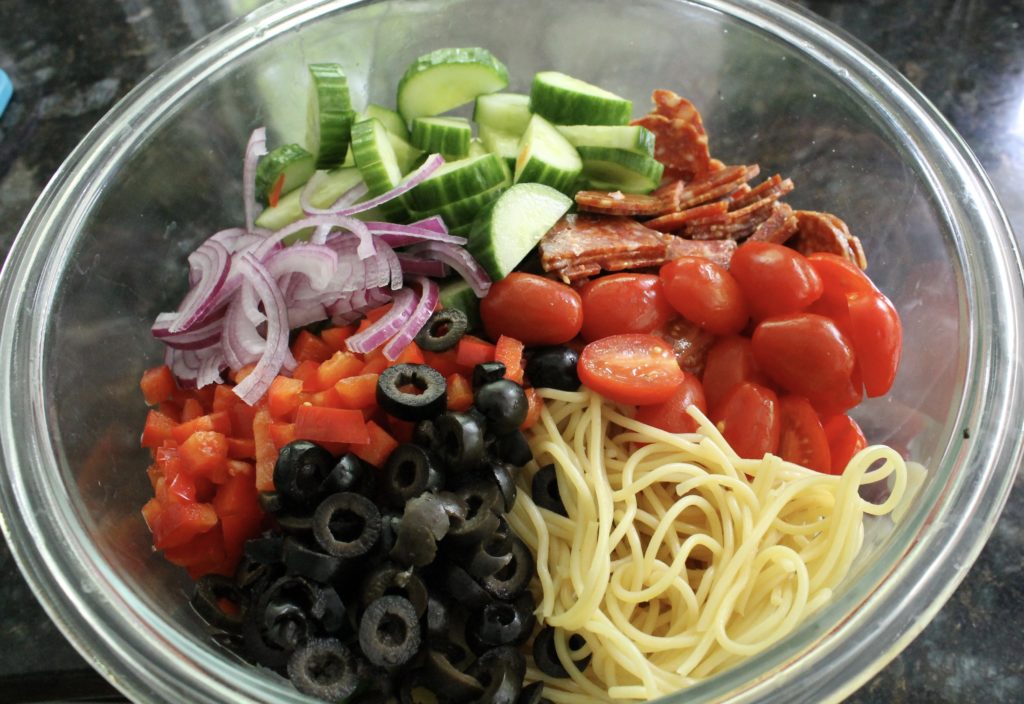 Who doesn't love a tasty summer BBQ? Burgers and brats make their long anticipated seasonal debut…but the sides could steal the show. You'll have your usual standbys — fruit, broccoli, potato and green salads…all delicious. Of course, pasta salad will make an appearance, but this version (not from the local deli case), with classic Italian notes and an abundance of fresh, bright, balanced and light flavors, could be the star!
Easy Italian Spaghetti Pasta Salad
Serves 8
1 pound thin spaghetti
2 tablespoons kosher salt
2 cucumbers, quartered and sliced
1 red bell pepper, seeded and chopped
½ red onion, thinly sliced
10 ounces cherry tomatoes, halved
8 ounces mini pepperoni
1 4-ounce can sliced black olives, drained
½ cup grated Parmesan cheese
1 cup extra virgin olive oil
½ cup red wine vinegar
2 tablespoons Italian seasoning (combo of dried oregano, basil)
2 teaspoons sugar
1 garlic clove, pressed or finely minced
1 teaspoon kosher salt
1 teaspoon freshly ground black pepper
Cook the spaghetti according to directions in boiling water seasoned with 2 tablespoons of kosher salt. Drain, rinse and cool. Add the spaghetti to a large bowl with the cucumbers, red bell pepper, red onion, cherry tomatoes, mini pepperoni, black olives and parmesan cheese. for the dressing, add the olive oil, red wine vinegar, Italian seasoning, sugar, garlic clove, kosher salt and freshly ground black pepper. Mix well and pour over the spaghetti mixture and toss to coat. Add more parmesan cheese and salt and pepper to taste. Chill for 30 minutes up to overnight.
Adapted from: Foodie Crush