Shrimp Roll
June 13, 2017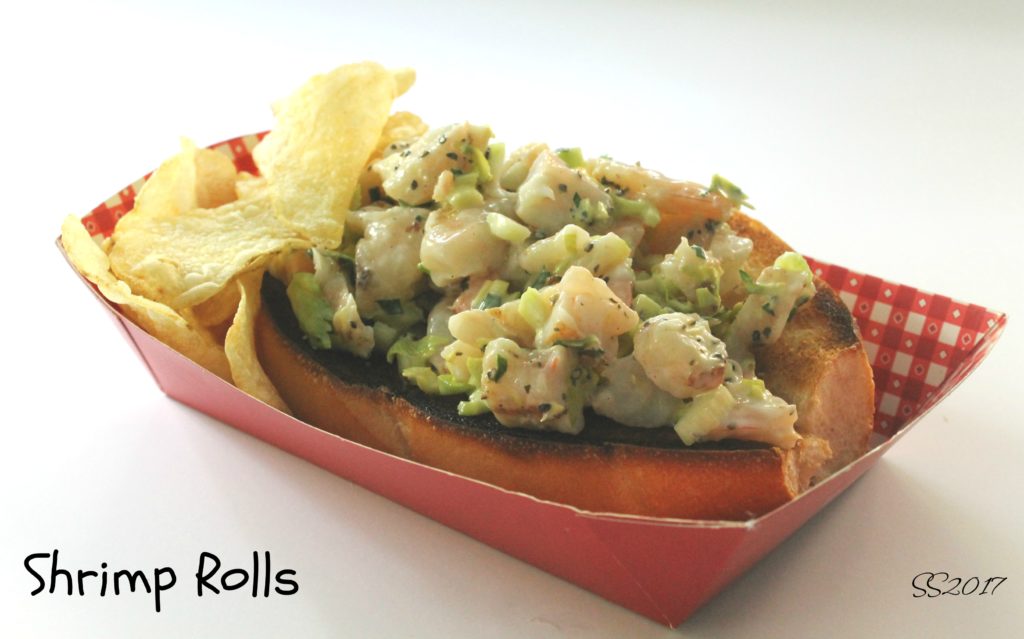 Fresh cooked Shrimp Rolls with lemon, mayonnaise, tarragon and chives served on a buttery toasted roll will make for a quick and delicious meal.  The subtle tarragon flavor pairs so well with the sweet shrimp. New England-style split top rolls are not an easy find in the Chicago area. You can create your own by slicing the sides and a bit off the bottom of a brioche bun or oversized hot dog bun. This style allows the surface to butter and toast under the broiler.
Shrimp Rolls
Makes 6
Kosher salt
2 lb. large shrimp (31 to 40 per lb.) peeled, deveined
3/4 cup finely chopped celery with leaves
1/2 cup mayonnaise
1/4 cup thinly sliced fresh chives
1 Tablespoons finely chopped fresh tarragon
1 Tablespoons fresh lemon juice; more to taste
Freshly ground black pepper
6 New England-style split-top rolls or make (slice) your own
Bring a large pot of well-salted water to a boil over high heat. Add the shrimp and cook, stirring, until bright pink and cooked through, about 2 minutes. Drain in a colander and run under cold water to stop the cooking. Cut into 1/2- to 3/4-inch pieces.
OR in a bowl, mix shrimp with a few tablespoons of olive oil and salt. Grill shrimp for 1-2 minutes per side.
In a large bowl, stir the celery, mayonnaise, chives, tarragon, lemon juice, 1/4 tsp. salt, and 1/4 tsp. pepper. Stir in the shrimp and season to taste with more lemon, salt, and pepper.
Position a rack 6 inches from the broiler element and heat the broiler to high. Butter and toast both outside (I also did the inside) surfaces of the rolls under the broiler, about 1 minute per side. Spoon the shrimp salad into the rolls, using about 2/3 cup per roll, and serve.
Make it a lobster roll: Substitute 1-1/2 lb. (4 cups) cooked lobster meat for the cooked shrimp.
Adapted from: Fine Cooking