Thai Chicken Skewers with Peanut Sauce
June 26, 2017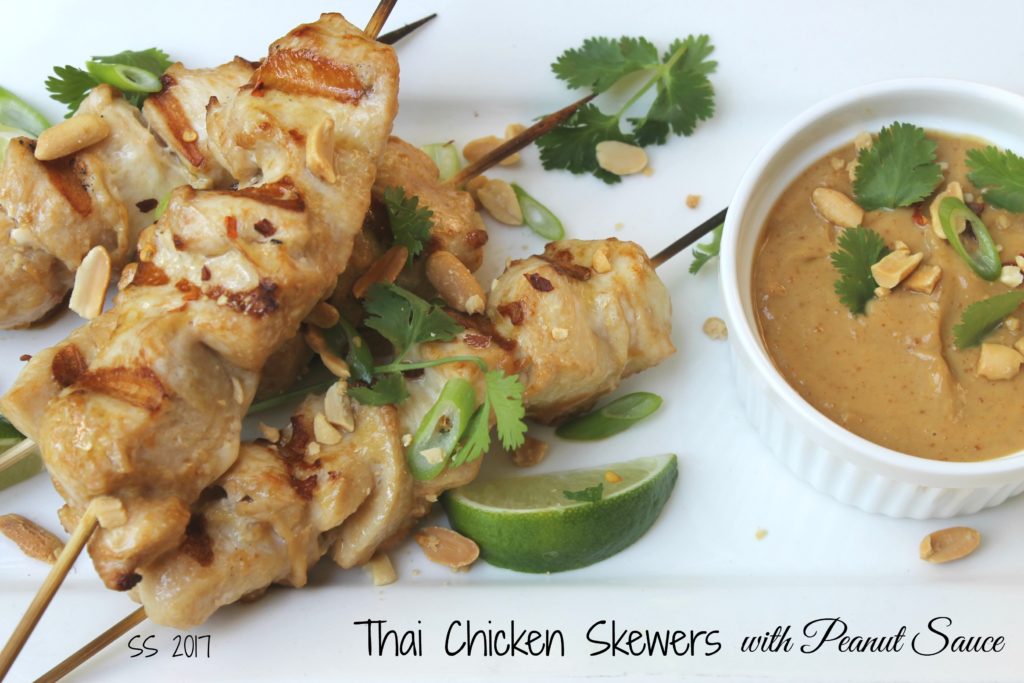 This marinated satay grilled chicken makes for a fun summer dinner. The peanut sauce needs a straw! It's creamy, rich and has a spicy, sweet note. Food on a stick is just fun….don't ya think?
Thai Chicken Skewers with Peanut Sauce
Serves 4
1 1/2 pounds boneless, skinless chicken cut into 3/4 inch cubes
3/4 teaspoon kosher salt
1/2 tablespoon tamari (or soy sauce)
2 tablespoons olive oil
metal or wooden skewers
cilantro for serving
Peanut Sauce
1/2 cup natural peanut butter (no sugar added)
6 tablespoons warm water
1 1/2 tablespoons tamari (or soy sauce)
2 teaspoons rice vinegar
3 tablespoons fresh lime juice
1 1/2 teaspoons sesame oil
To make peanut sauce, whisk all ingredients together in a large bowl until completely smooth. (Mixture will seize up at first, but keep whisking, it will smooth out.) Set aside.
Before making chicken, if you are using wooden skewers, be sure to soak them in water for 30 minutes to prevent burning. To make chicken, toss chicken cubes with salt. Then mix together olive oil and tamari, and pour over top of chicken. Mix with hands to coat, and let sit for 20 minutes in the refrigerator.
Thread chicken cubes on to the skewers. Turn grill (or indoor grill pan) to medium-high heat. Grill for 10-12 minutes, turning every 4 minutes so that all sides get a nice char. Test one piece of chicken to see if it is cooked all the way through. Then serve with peanut sauce drizzled and lightly brushed over the top. Sprinkle chicken with minced cilantro, peanuts and put extra peanut sauce on the side for dipping.
Adapted from: Amanda Paa