Mexican Grilled Street Corn Appetizer
July 9, 2017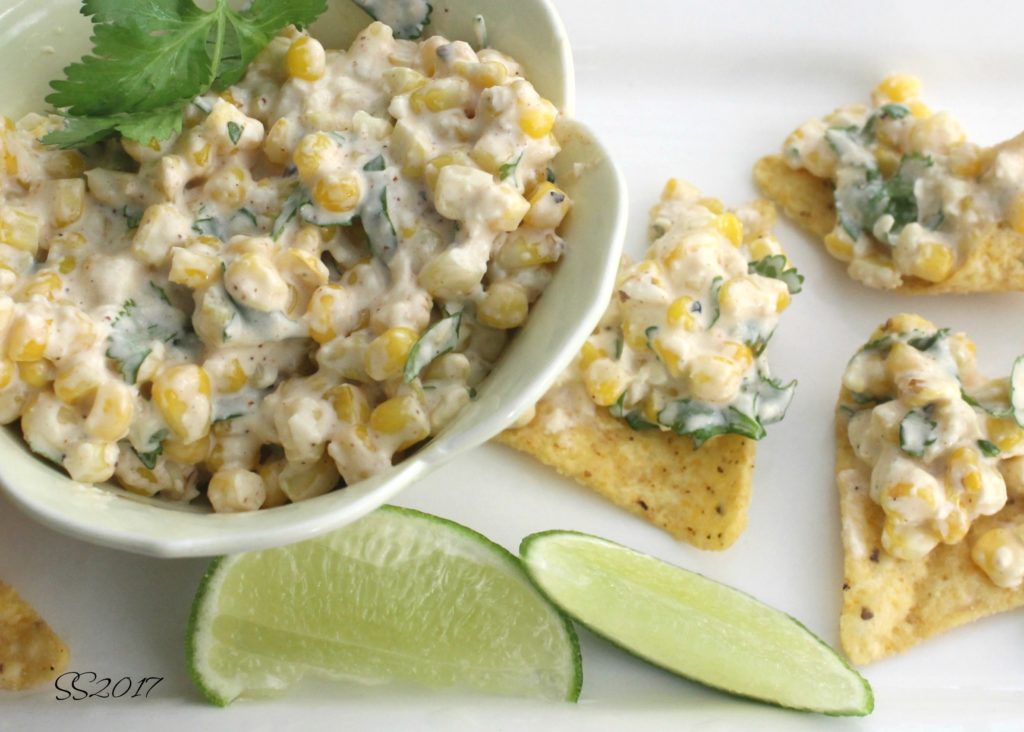 Mexican Street Corn is a hit at every summer BBQ! Why not turn the traditional preparation into a flavorful appetizer? Start with sweet corn grilled to crispy perfection. Combine with a bit of mayonnaise, Cotija cheese, paprika, chili powder, garlic powder, cilantro and finish with lime. Truth be told, sautéing frozen kernels in a cast iron skillet is just as tasty as the grilled corn on the cob version.
Mexican Grilled Street Corn Appetizer
Serves 4
1/3 cup  sour cream or Mexican crema
1/4 cup mayonnaise
1/2 cup  finely crumbled Cotija, plus more for serving
1/2 teaspoon  smoked paprika
1/2 teaspoon chili powder
1 teaspoon garlic powder
1/4 cup  finely chopped cilantro leaves, and extra for garnish
1/4 teaspoon kosher salt, or to taste
4 ears of corn
2 Tablespoons  olive oil
Kosher salt and pepper
2 stalks of green onions, sliced thin
1 lime, cut into wedges
In bowl, combine sour cream, mayonnaise, cheese, smoked paprika, chili powder, garlic powder, cilantro and salt in a large bowl. Set aside.
Grilled Whole Corn-On-Cob Option: Heat grill on high heat. Grill until nicely charred and tender all around.
(Sautéed kernels  (frozen kernels) Corn Option: Heat large skillet on medium high heat. Add olive oil, then add corn and green onions. Cook corn until slightly charred and brown, around 5 minutes, just until the corn is plump and cooked. Transfer corn to a large bowl and allow to cool.
Combine cheese mixture with corn. Add extra cheese for topping, paprika or chili powder. Garnish with cilantro. Serve with lime wedges.
Adapted from: WHITEONRICECOUPLE