Sheet Pan Shrimp Boil
August 3, 2017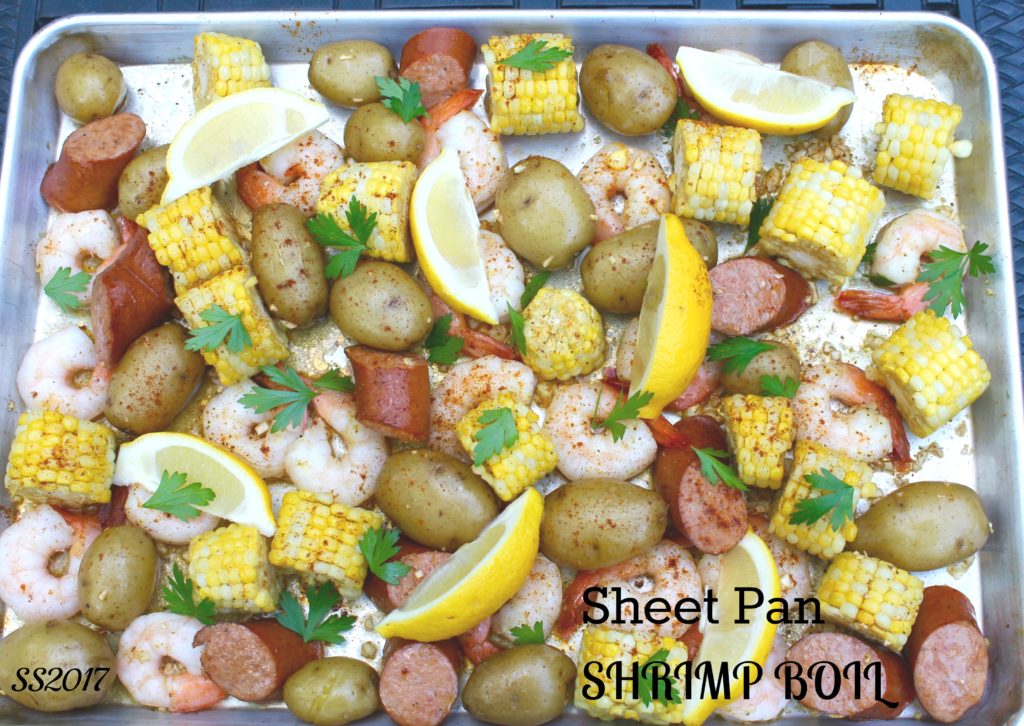 I'm not spending my summer on the east coast where seafood boils are a tradition. These one-pot meals with corn, potatoes, sausage, onions, and seafood all boiled together to make a fun and tasty meal that are perfect for a crowd. This midwestern version uses a sheet-pan for a quick an easy way to entertain your guests with no mess. Add crusty grilled bread and chilled white wine.
Sheet Pan Shrimp Boil
Serves 6
1 pound baby Dutch yellow potatoes
3 ears corn, each cut crosswise into 6 pieces
1/4 cup unsalted butter, melted
4 cloves garlic, minced
1 tablespoon Old Bay Seasoning
1 pound medium shrimp, peeled and deveined (raw)
1 (12.8-ounce) package smoked andouille sausage, thinly sliced
1 lemon, cut into wedges
2 tablespoons chopped fresh parsley leaves
Preheat oven to 400 degrees. Lightly oil a baking sheet or coat with nonstick spray.
In a large pot of boiling salted water, cook potatoes until just tender and parboiled, about 10-13 minutes. Stir in corn during the last 5 minutes of cooking time; drain well.
In a small bowl, combine butter, garlic and Old Bay Seasoning.
Place potatoes, corn, shrimp and sausage in a single layer onto the prepared baking sheet. Stir in butter mixture and gently toss to combine.
Place into oven and bake for 12-15 minutes, or until the shrimp are opaque and corn is tender.
Serve immediately with lemon wedges, garnished with parsley.
Adapted from: Damn Delicious