Blueberry Clafoutis
September 3, 2017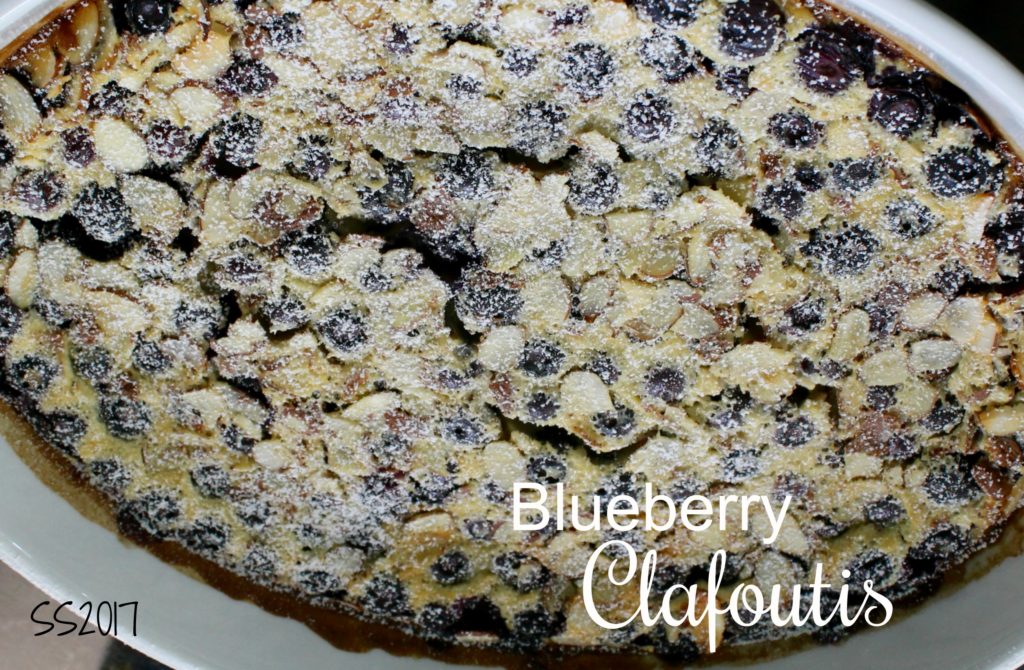 Clafoutis (kläfo͞oˈtē) a traditional dessert from the Limousin region of France which is known for its dark sweet cherries. Instead of cherries, today I'm making this "simple peasant dessert" with blueberries. Depending on what fruit is in season, use what's available….plum, pear, apple. This dish is a cross between flan or custard-like cake. The batter is so simple to prepare…the ingredients are mixed in your blender, then poured over the blueberries and baked for 25 minutes…..that's it!! It's perfect for your morning coffee but even more delicious served with vanilla ice cream.
Blueberry Clafoutis
1 pint fresh blueberries
1 1/4 cups milk
2/3 cup white sugar
1/2 cup all-purpose flour
3 large eggs
1 tablespoon vanilla extract
1 pinch salt
Handful of slivered almonds (optional)
Preheat oven to 425 degrees. Butter a 2 1/2-quart baking dish.
Pour blueberries into prepared baking dish.
Blend milk, sugar, flour, eggs, vanilla extract, and salt in a blender until batter is smooth. Pour batter over blueberries and gently shake to remove any air bubbles.
Bake in the preheated oven until puffed and center is set, 25 to 30 minutes. Cool until clafoutis deflates and is just warm.
Confectioners' sugar, for dusting
Adapted from: All Recipes