Everything Grilled Cheese And Roasted Tomato Soup
October 14, 2017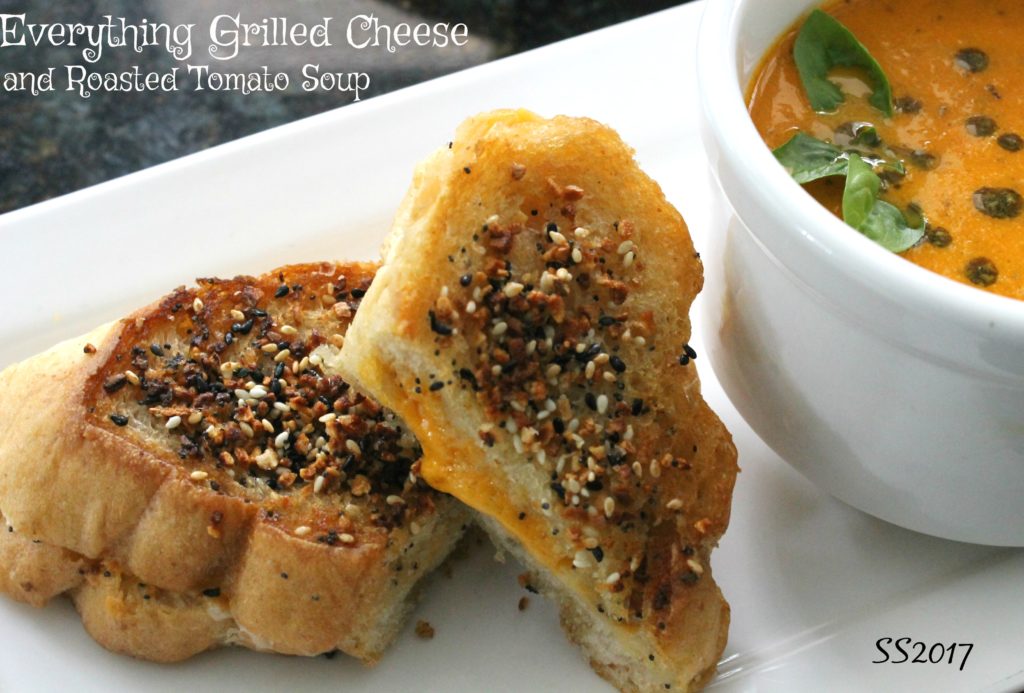 It's that time people. Fires, comfy clothes, warm socks AND grilled cheese and tomato soup. This recipe combines shredded cheddar and havarti. But the difference maker and the ingredient that turns a grilled cheese sandwich up too many notches to count is…Trader Joe's Everything But Bagel Sesame Seasoning!! Yep, spread butter, sprinkle with parmesan and coat with seasoning. Game Changer. This version of tomato soup  uses roasted tomatoes that are then blended with pesto and milk. Simply cozy.
Everything Spice Grilled Cheese
Serves 2
4 slices thick cut bread
1 cup grated sharp cheddar cheese
3/4 cup shredded havarti or fontina cheese
4 tablespoons salted butter, at room temperature
1/4 cup grated parmesan cheese
2-4 tablespoons everything bagel spice
Heat a large skillet over medium heat and a pat of butter.
Spread the outside of each slice of bread with butter and arrange the cheddar and havarti cheese on each side of the sandwich. Sprinkle the parmesan and everything spice over both buttered sides of the bread, pressing the spice mix gently into the bread to adhere.
Place the sandwiches in the skillet and cook until golden on each side, about 4-5 minutes per side.
Creamy Roasted Tomato Soup
Serves 4
6-8 heirloom tomatoes, quartered
1 small sweet onion, quartered
3 tablespoons extra virgin olive oil
2 tablespoons fresh thyme leaves
kosher salt and pepper
1 cup whole milk, plus more to thin
1/3 cup basil pesto, homemade or store-bought
parmesan, for serving (optional)
Preheat the oven to 425 degrees.
In a large oven safe pot, combine the tomatoes, onion, olive oil, thyme, and a pinch each of salt and pepper. Transfer to the oven and roast for 20-30 minutes or until the tomatoes just begin to char and release their juices. Let cool slightly.
Transfer the roasted tomatoes (you may want to remove the skin from all or a few tomatoes…they don't all puree) and their juices to a blender and add the milk. Puree until smooth. Return the soup to the pot and place over medium heat on the stove. Stir in the pesto and season the soup with salt and pepper. Thin with more milk if desired.
To serve, ladle the soup among bowls and top with parmesan and basil. Serve with a grilled cheese on the side.
Adapted from: Half Baked Harvest