Sweet Potato Gnocchi with Brown Butter Sage
November 22, 2017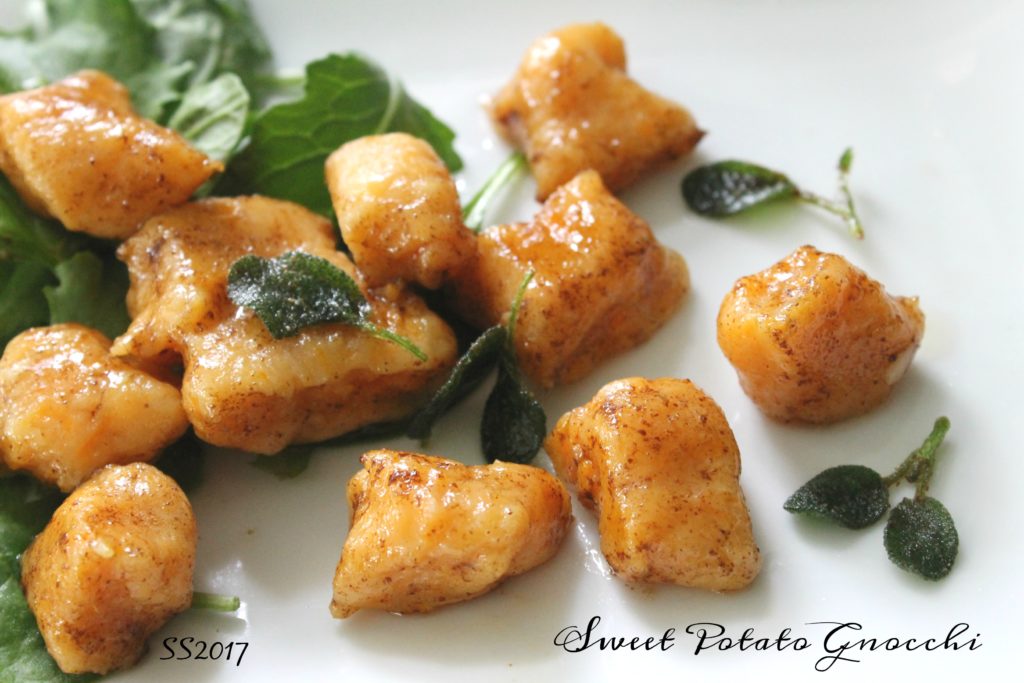 Plans for leftovers? Mine? Sweet potato gnocchi. Don't be intimidated because this easy recipe combines a Thanksgiving staple with ingredients you already have in your pantry. Plus it can be fun cooking with those straggling relatives. The recipe allows you to play with the dough (fun). You don't want the dough to be too sticky or too dry. Start with 1/2 cup of flour added to the potato ricotta mix. Then add 1/4 cup at a time until you have the right texture — soft play-dough-like  consistency. Roll the dough into ropes and cut them into 1/2″ pieces. The butter sage sauce provides the winning finish!! Bonus, these little nuggets can be frozen. Before cooking, spread them onto a  baking sheet, then when frozen place them into ziplock bags. They can be frozen up to 3 months. This recipe can be made with butternut squash instead of the sweet potatoes.
Sweet Potato Gnocchi with Brown Butter Sage
2 medium sweet potatoes (about 2 cups once mashed)
1/2 cup whole milk ricotta
1 large egg
1 1/2 to 2 cups all-purpose flour
1 teaspoon kosher salt
pinch of fresh nutmeg
Brown Butter Sage
3 tablespoons butter
2 tablespoon olive oil
2 tablespoons balsamic vinegar
3 sprigs fresh sage, plus more for garnish
Preheat your oven to 400 degrees.
Poke a few holes in the sweet potatoes and bake for 45 minutes or until soft and tender. When the sweet potatoes are cooked, slice them in half, allow to cool, and finely mash or puree them.
In a large bowl, mix together the sweet potatoes, ricotta, egg, salt, and flour. Stir the mixture until just combined. If the dough seems wet, add a tablespoon of flour at a time until it can be formed into a ball. The dough should be sticky.
Generously flour a clean counter and scrape the dough out onto the counter. Cut the dough into four equal pieces. Working with one piece of dough at a time, roll the dough into a rope about 1 inch thick and cut into bite size pieces. Repeat this process with the other pieces of dough and place the gnocchi on a baking sheet that has been dusted with flour. At this point, the gnocchi can be kept, covered in the fridge for up to 1 day and then boiled just before you are ready to eat.
Bring a large pot of salted water to a boil. Boil the gnocchi until they float to the top and are cooked through, about 3-4 minutes. Remove the gnocchi using a slotted spoon or spider strainer and place on a plate.
Heat pan on medium heat and when hot,  2 tablespoons butter and the olive oil.
When hot, add the fresh sage. Let the sage brown and sizzle (but not burn) for a couple of minutes until very fragrant. Remove the sage.
To the pan, add the balsamic vinegar and whisk. Let simmer on low for 1 minute and add the gnocchi and toss.
Adapted from: Half Baked Harvest