One-Pan Autumn Chicken and Wild Rice
December 7, 2017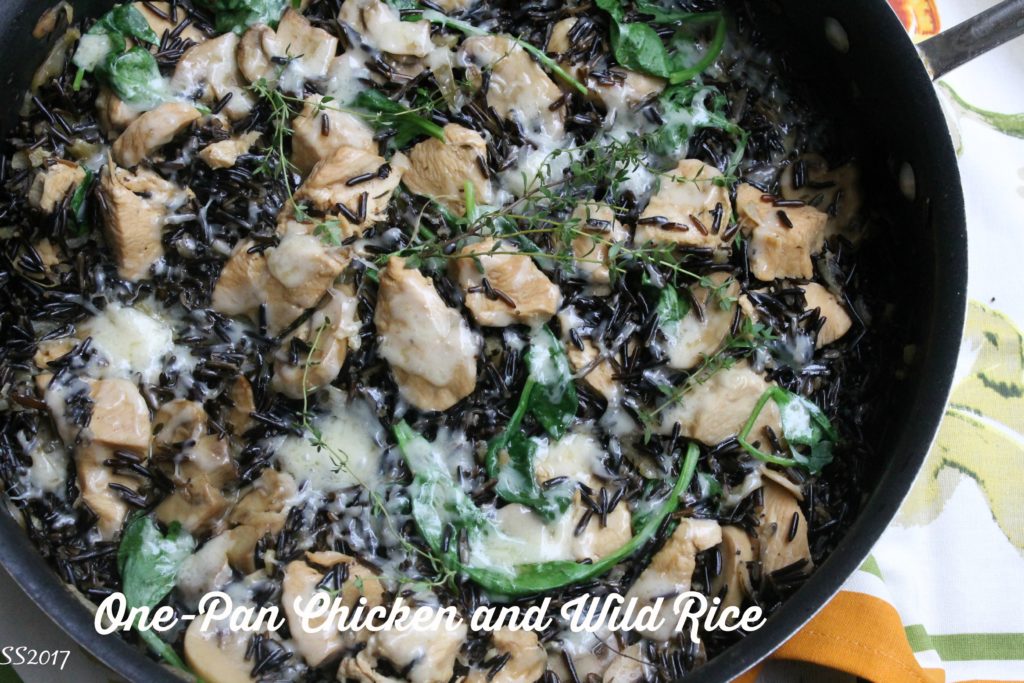 Enjoy the comforting taste of chicken, wild rice, cremini mushrooms, onion, apple and Gruyere cheese in this one-pan dinner. The special ingredient in this dish is the earthy, woodsy rice. Wild Rice. AND… this rice is actually a grain, high in protein, low in fat and is gluten free. Other health benefits: rich in anti-oxidants, fiber powerhouse, rich source of folate, phosphorus, zinc and vitamin. Perfect for a cozy week night meal.
One-Pan Autumn Chicken and Wild Rice
2 tablespoons butter
1 tablespoon olive oil
1/2 sweet onion, chopped
kosher salt and pepper
2 cloves garlic, minced or grated
6 ounces cremini mushrooms
2 ounces wild mushrooms
1 Honeycrisp apple, thinly sliced
2 tablespoons fresh chopped thyme, plus more for serving
3 cups low sodium chicken broth
1/2 cup white wine or more chicken broth
2 cups wild rice
1/2-1 pounds boneless skinless chicken breasts, cut into bite size pieces
2 cups baby spinach
1 1/2 cups shredded Gruyère cheese
Preheat the oven to 400 degrees.
Melt the butter and olive oil in a large, oven safe skillet over medium heat. Add the onion and cook for 5-8 minutes, stirring often until the onion is soft. Season with salt and pepper. Add the garlic, the cremini mushrooms and the wild mushrooms, cook another 5 minutes or until the mushrooms are caramelized. Stir in the apples and thyme and cook another minute longer.
Pour in the chicken broth and wine and bring to a boil over high heat. Stir in the rice and chicken, cover and reduce the heat to low. Simmer for 40-45 minutes or until the rice is cooked. Remove from the heat and stir in the spinach.
Sprinkle the cheese over top the rice and transfer to the oven. Bake for 10-15 minutes or until the cheese has melted. Remove from the oven and serve with fresh thyme.
Adapted from: Half Baked Harvest