Garlic Butter Roasted Mushrooms
December 18, 2017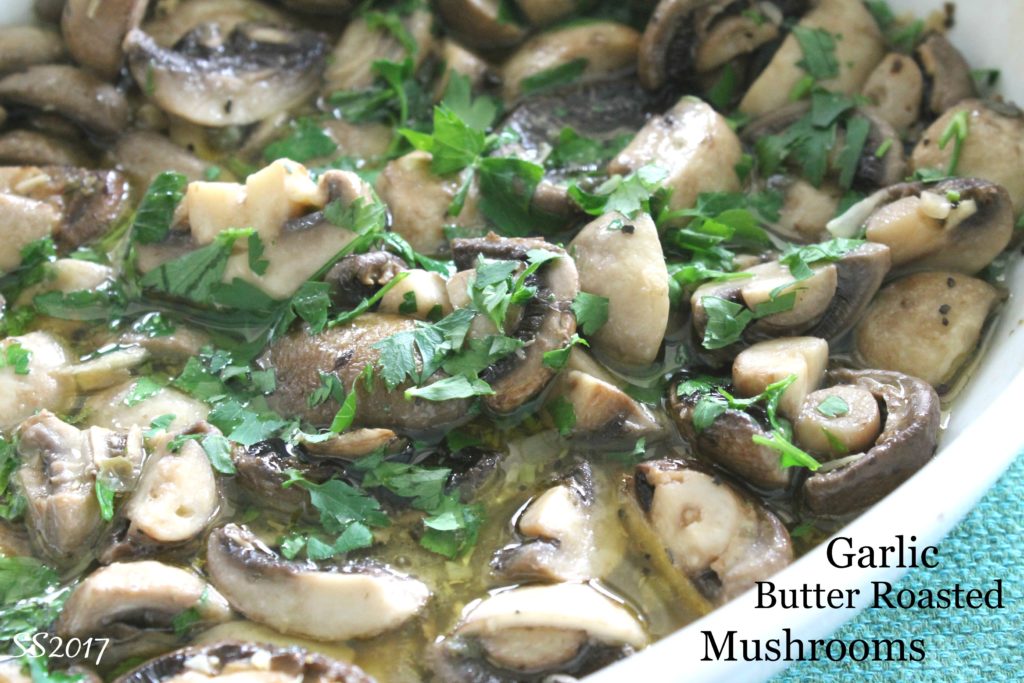 You can find sautéed mushrooms along side a thick, juicy steak at a popular chop-house. Side dishes like creamed spinach, fluffy mashed potatoes, twice-baked cheesy potatoes also make an appearance on the menu but these garlicky mushrooms outshine them all. These hearty mushrooms can be served over polenta, pasta, greens, burgers or a side to an omelette.
Garlic Butter Roasted Mushrooms
1 pound mushrooms such as cremini or white, ***halved lengthwise
2 tablespoons capers, rinsed and chopped
3 large garlic cloves, minced
2 tablespoons vegetable oil
3 tablespoons unsalted butter, cut into pieces
2 teaspoons fresh lemon juice
1/4 cup chopped flat-leaf parsley
Preheat oven to 450 degrees. Toss mushrooms with capers, garlic, oil, 1/8 teaspoon salt and several grinds of pepper in a 1 1/2- to 2-qt shallow baking dish. Top with butter and roast, stirring occasionally, until mushrooms are tender and golden and bubbly garlic sauce forms below, 15 to 20 minutes. Stir in lemon juice and parsley. Serve immediately, with crusty bread on the side for swiping up the juices.
***Don't soak or rinse the mushrooms, instead, just wipe off any dirt with a damp cloth. Mushrooms will absorb the water.
Adapted from: Gourmet/Smitten Kitchen