Beef Pot Pie
January 15, 2018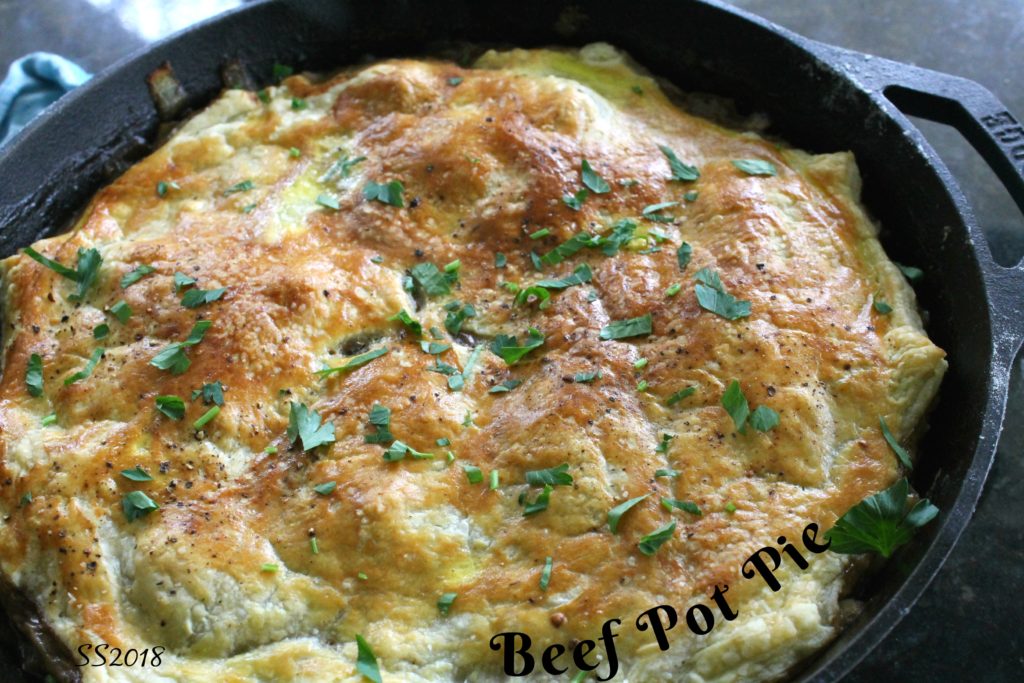 Just like a warm hug…this pastry is the blanket these beef and veggies need. The beef, vegetables, herbs, broth and red wine get cooked down to a savory one skillet meal. Start with top sirloin, add onion, garlic,  carrots, celery, mushrooms, red wine and broth. This all gets reduced to a delicious, almost gravy-like stew. Then comes the magic…top with puff pastry dough and all its flaky, buttery goodness.
Beef Pot Pie
Serves 6
4 tablespoons butter
2 tablespoons olive oil
1 1/2 pounds beef stew meat (sirloin cut into cubes)
1 1/2 cups diced carrots
1 1/2 cups diced celery
1 onion, diced
3 cloves garlic, minced
3 tablespoons all-purpose flour, (plus additional 2 if needed)
1 pound cremini or white button mushrooms (optional)
1 cup red wine
1 1/2 cup beef broth
Kosher salt and freshly ground black pepper
1/4 cup plus 2 tablespoons parsley, chopped
2 sprigs fresh thyme (or pinch of dried)
1 sheet frozen puff pastry
1 large egg, 2 tablespoons water (for egg wash)
Heat an 11″ cast-iron skillet over medium-high heat. Add 1 tbs. oil and butter. Season beef  with salt and pepper. Add butter and oil to pan, then add meat. Cook meat for 1 minute on each side, then transfer to a plate to rest.
Reduce heat to medium; add remaining 1 tablespoon oil, garlic and onion and cook for 1 minute while scraping bottom of pan with wooden spoon. Add carrots, celery and thyme; season with salt and pepper and cook about 5 minutes. Sprinkle flour evenly over vegetables; cook and stir for 1 minute. Add red wine and broth and bring to a boil. Add back the meat with juices and parsley. Cover and simmer for 45 minutes or up to 1 1/2 hours (the longer you cook the more tender the meat).
Thaw frozen puff pastry on counter top.
**** If the stew needs to be thicker..after 45 minutes, mix the remaining 2 tablespoons flour with a little water and pour into the stew. Cook and thicken for 10 more minutes. Remove from the heat and set aside.
Preheat oven to 425 degrees.
Flour countertop and roll out puff pastry to a 12″-x-12″ square. Trim pie crust into a circle. Fold in half, then in half again to easily transfer to skillet. Place pastry over filling and loosely tuck it in around the skillet edges. Cut several slits in the pastry and brush lightly all over with egg wash.
Place skillet on a rimmed baking sheet and bake until pastry is golden brown, approximately 20 minutes. top with chopped parsley.
**To turn this into a chicken pot pie,  swap beef for chicken. Red wine to white wine. Beef broth to chicken broth. Cooking time 45 minutes.