Mediterranean Bowl With Roasted Red Pepper Sauce
January 28, 2018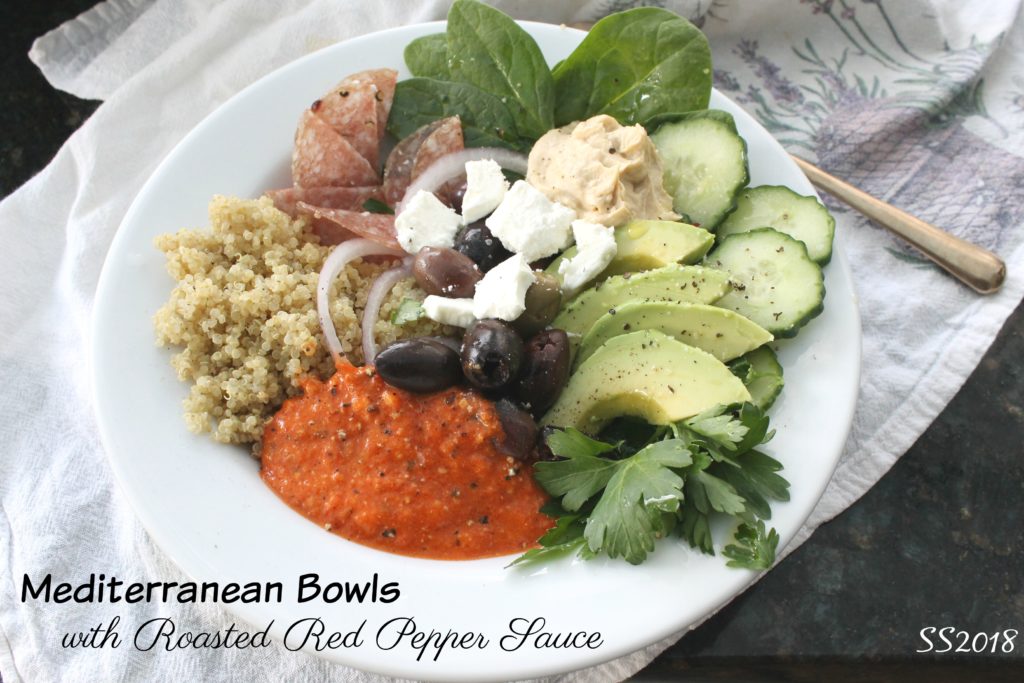 Power bowls. They're a thing. The Mediterranean diet has proven to be one of the healthiest and just happens to be my #1 flavor profile. So to build a bowl, start with whole grains, vegetables and fruits. Add protein (beans, legumes, nuts, lentils or fish). Add a healthy fat, (avocado, olive oil, nuts, seeds). Add flavorful herbs or condiments, (hummus, red pepper sauce, basil, parsley). My protein is quinoa. From there I added kalamata olives, avocado, spinach, red onion, pepperoncini, cucumbers, feta and parsley. My favorite component of this bowl is the roasted red pepper sauce. Do NOT skip this 4 ingredient dressing. Game changer.
This is a great meal prep recipe. Prep plenty of ingredients and store in separate containers in the fridge and you've got your daily bowl of healthy yum.
Mediterranean Quinoa Bowls with Roasted Red Pepper Sauce
Roasted Red Pepper Sauce
1 16 ounce jar roasted red peppers, drained
1 clove garlic
1/2 teaspoon salt or more to taste
juice of one lemon
1/2 cup olive oil
1/2 cup almonds
Build your bowls based on what you like.
cooked quinoa
spinach, kale, or cucumber
feta cheese
kalamata olives
pepperoncini
thinly sliced red onion
hummus
fresh basil or parsley
olive oil, lemon juice, salt, pepper
Roasted Red Pepper Sauce:
Pulse all the ingredients for the sauce in a food processor or blender until mostly smooth. The texture should be thick and textured (see picture).
Cook the quinoa according to package directions. When the quinoa is done, build yourself a Mediterranean Quinoa Bowl.
Store leftovers in separate containers and assemble each bowl just before serving, especially the greens and the sauces, as those will get soggy when stored with all the other ingredients.
Adapted from: Pinch of Yum