Soft-Shell Crabs with Aioli Sauce and Sweet Onion
May 16, 2013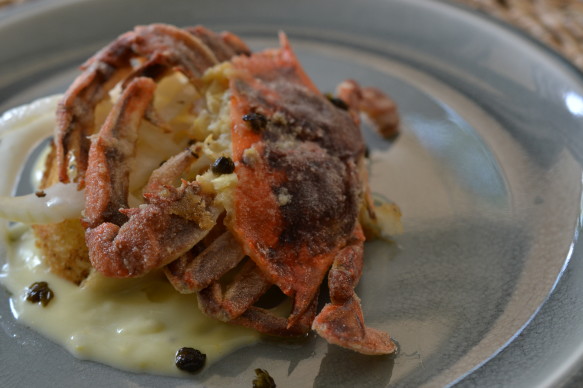 Now…while most seafood is available during any season, the highly anticipated soft shell crabs remain seasonal. They are only available from late April thru summer when the Blue Crabs shed their shells in preparation to grow new ones. Harvesting the crab before the hard shell arrives makes every inch of my favorite crustacean edible. These culinary delights are briny yet sweet with a gentle crunch and their unique flavor calls for a simple preparation. In honor of Paul Kahan and his newly crowned James Beard Award for "America's Most Outstanding Chef," this is his favorite way to serve these culinary delicacies.
Soft-Shell Crabs with Aioli Sauce and Sweet Onion       (from Paul Kahan)
Serves 8
3 tablespoons red wine vinegar
1 small shallot, minced
1 1/4 cups extra-virgin olive oil
1 small Vidalia or other sweet onion, cut into thin rings
Salt and freshly ground pepper
1/2 cup mayonnaise
1/2 teaspoon finely grated lemon zest
1 1/2 tablespoons fresh lemon juice
1 1/2 cups rice flour
8 soft-shell crabs, cleaned and prepped (thank you Diamond Seafood!))
*(See Note): Capers, fried (cook in canola oil for about 5 minutes) 
                       Baguette slices, lightly toasted  
In a large bowl, whisk the vinegar with the shallot and 1/2 cup of the olive oil. Add the onion rings, season with salt and pepper and refrigerate for 1 hour.
Meanwhile, in a small bowl, whisk the mayonnaise with the lemon zest and juice. Gradually whisk in 1/4 cup of the olive oil and season with salt and pepper. Refrigerate the aioli until chilled.
In a large skillet, heat the remaining 1/2 cup of olive oil until shimmering. Spread the rice flour in a shallow bowl. Lightly dust the soft-shell crabs with rice flour and fry over high heat, turning once, until browned and crisp, 6 to 7 minutes. Drain the fried crabs on paper towels and season with salt and pepper.
Using a slotted spoon, transfer the marinated onion rings to a serving platter. Top with the fried soft-shell crabs and serve with the lemon aioli.