Wingless Buffalo Chicken Pizza
December 26, 2013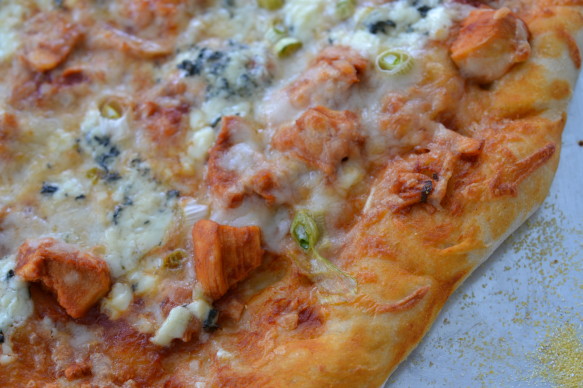 Looking for a winning recipe for playoff season? How about wings without the mess!!  I like the idea of combining all those yummy flavors onto a flatbread…spicy sauce, chicken, onions all cooled by melted blue cheese. My neighbor, Courtney, highlights this dish on her blog  every few months under "our pizza". Cute. We don't have a signature dish….hard to narrow one down. However, blue cheese anything is always way up there. If you like wings and you like pizza this may become your new favorite game time meal.
Wing Pizza             (adapted from A Life From Scratch)

Pizza Dough  ( Trader Joe's)
Olive Oil
3-4 chicken cutlets, depending on size
Salt and Pepper
2 tablespoons salted butter
3 tablespoons Worcestershire sauce
1 tablespoon hot sauce  (more or less)
1 cup tomato sauce
1 1/2 cups mozzarella cheese
3/4 cup blue cheese
Scallions, thinly sliced (1 or 2)
Preheat grill or saute pan to medium high heat.
Preheat oven to 425 degrees. Rub the chicken with a bit of olive oil and salt and pepper. Grill or saute chicken until done, about 3 minutes a side. Make the sauce. Heat a medium saute pan over medium heat. Melt butter and stir in the Worcestershire and hot sauce. Stir in tomato sauce. Turn off heat. Mix together sliced grilled chicken with the sauce. Roll out pizza dough. Spread a bit of corn meal onto baking sheet and place dough on top. Spread sauce on dough, top with both types of cheese and chopped scallions. Bake for approximately 14 minutes. Watch carefully the last few minutes….