Squash Blossoms Stuffed With Ricotta And Goat Cheese
June 9, 2014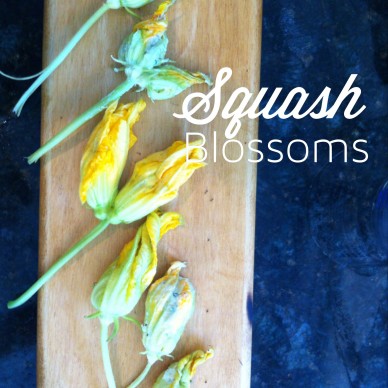 Squash blossoms are the beautiful, yellow edible flowers that grow with zucchini and a variety of summer squash. They have a subtle flavor and make the perfect vessel for delicious fillings. Squash blossoms are a seasonal treat and sadly, hard to find in traditional grocery stores due to how incredibly perishable they are. Search for these blossoms at your farmers markets. These beauties came from my garden (yep, I have a garden!!!) that I'm sharing with friends, Sil and Courtney (@alifefromscratch). Courtney researched how to harvest the flowers and discovered you only pick the male flower as the female flower produces the fruit. (Who knew??) Once picked, they are best used within a few hours to a day or so. These delicacies not only make a pretty appetizer they are also high in calcium, iron, vitamin A and C. I filled the flowers with a combination of ricotta and goat cheese and paired them with a tomato dipping sauce. YUM!
Squash Blossoms
Tomato Sauce
1 garlic clove, minced
1/4 teaspoon hot red pepper flakes
2 tablespoons olive oil
1 1/2 pound plum tomatoes, finely chopped
1/2 cup water
1/2 teaspoon sugar
Cook garlic and red pepper flakes in oil over medium heat, about 30 seconds. Add tomatoes, water, sugar, and 1/2 teaspoon salt, simmer until thickened, about 25 minutes.
 Squash Blossoms
1/2 cup whole-milk ricotta
1/2 cup goat cheese
1 large egg yolk
1/4 cup basil, finely chopped
2/3 cup grated Parmigiano-Reggiano, divided
12 to 16 large zucchini squash blossoms
1/2 cup plus 1 tablespoon all-purpose flour
3/4 cup chilled seltzer or club soda
About 3 cups vegetable oil for frying
Squash Blossoms
Stir together ricotta, goat cheese, egg yolk, basil 1/3 cup parmesan, and 1/8 teaspoon each of salt and pepper.
Carefully open each blossom and fill with about 2 rounded teaspoon ricotta filling, gently twisting end of blossom to enclose filling.
Whisk together flour, remaining 1/3 cup parmesan, 1/4 teaspoon salt, and seltzer in a small bowl.
Heat 1/2 inch oil to 375°F in a 10-inch heavy skillet. Meanwhile, dip half of blossoms in batter to thinly coat. Fry coated blossoms, turning once, until golden, 1 to 2 minutes total. Transfer with tongs to paper towels to drain. Coat and fry remaining blossoms. (Return oil to 375°F between batches.) Season with salt. Serve with tomato sauce.
Adapted from Epicurious