"ShreddedSprout" and Kale Salad
December 3, 2014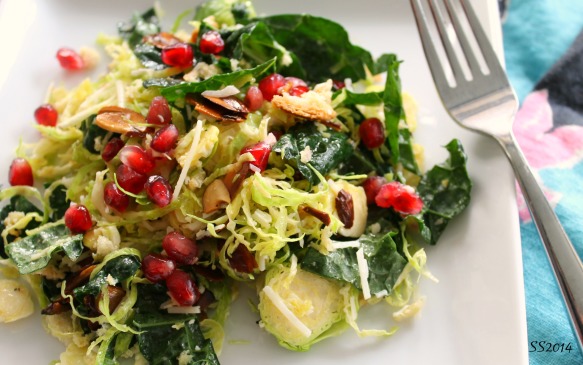 This salad may become your go-to during the winter months. It is mine. Hearty, healthy greens in their natural state are the base for this delicious simple meal or side dish. The raw, thinly sliced Brussels sprouts add a nice crunch and stand up well to the bright, citrusy dressing. Add pomegranates to dress it up for the holidays. You can prepare this salad about 30 minutes prior to serving as the kale will soften a bit. DO NOT skip the sauteed almonds…they make the salad!!
 ShreddedSprout and Kale Salad
Serves 6-8
1/4 cup fresh lemon juice
2 tablespoons Dijon mustard
1 tablespoon minced shallot
1 small garlic clove, finely grated
1/4 teaspoon kosher salt plus more for seasoning
Freshly ground black pepper
2 large bunches of Tuscan kale (about 1 1/2 pounds total), center stem discarded, leaves thinly sliced
12 ounces Brussels sprouts, trimmed, finely shredded with a knife or mandolin
1/2 cup extra-virgin olive oil, divided
1/3 cup almonds with skins, coarsely chopped (I used slivered with skins on)
1 cup finely grated Pecorino cheese
Pomegranate seeds
Combine lemon juice, Dijon mustard, shallot, garlic, 1/4 teaspoon salt, and a pinch of pepper in a small bowl. Stir to blend; set aside to let flavors meld. Mix thinly sliced kale and shredded Brussels sprouts in a large bowl.
Measure 1/2 cup oil into a cup. Spoon 1 tablespoon oil from cup into a small skillet; heat oil over medium-high heat. Add almonds to skillet and stir frequently until golden brown in spots, about 2 minutes. Transfer nuts to a paper towel–lined plate. Sprinkle almonds lightly with salt.
Slowly whisk remaining olive oil in cup into lemon-juice mixture. Season dressing to taste with salt and pepper. DO AHEAD: Dressing, kale mixture, and toasted almonds can be prepared 8 hours ahead. Cover dressing and kale mixture separately and chill. Cover almonds and let stand at room temperature.
Add dressing and cheese to kale mixture; toss to coat. Season lightly with salt and pepper. Garnish with almonds and pomegranates.
Adapted from Epicurious