Jalapeno Popper Deviled Eggs
April 4, 2015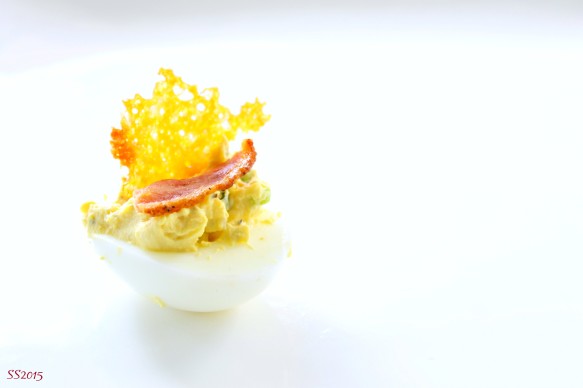 Who's bringing the deviled eggs? You just might want to volunteer! This clever twist on a traditional deviled egg combines ingredients that mirror jalapeno poppers. The creamy yolks are combined with a bit of cream cheese, jalapeno and green onions. The eggs are then topped with cheddar cheese crisps and a slice of pancetta making for a stunning presentation. This is an eggscellent way to brighten up any Easter buffet.
Jalapeno Popper Deviled Eggs 
Makes 8 deviled eggs
2 Slices of pancetta
1/4 Cup shredded cheddar
4 Hard boiled eggs  (How to make PERFECT hard-boiled eggs)
1 Tablespoon mayo, or to taste
1 Tablespoon cream cheese, or to taste
1/2 Jalapeno, diced (for more spice, leave some of the vein and a few seeds)
1 Tablespoon sliced green onions
Salt, to taste (careful, the cheese and pancetta also add salt)
Pepper
Crisp up the pancetta in a non-stick pan over medium heat until edges curl and pancetta is crispy. Set aside. Wipe out the pan and heat over medium heat. Spray your pan with non stick spray and sprinkle shredded cheddar in tiny disks and cook until crispy and golden brown (they will continue to brown a bit while cooling, so don't cook til dark). Remove from the heat and cool in the pan.
Cut the hard-boiled eggs in half and remove the yolks from the egg halves into a small bowl. Mash the yolks with a fork until fine and crumbly. Mix with the mayo, cream cheese, jalapeño, green onions and salt and pepper to taste. Fill the egg halves with the yolk mixture and top each egg half with a bit of crispy cheese and pancetta.
Adapted from: Iamafoodblog