Spaghetti with Warm Bacon-Mushroom Vinaigrette

October 9, 2016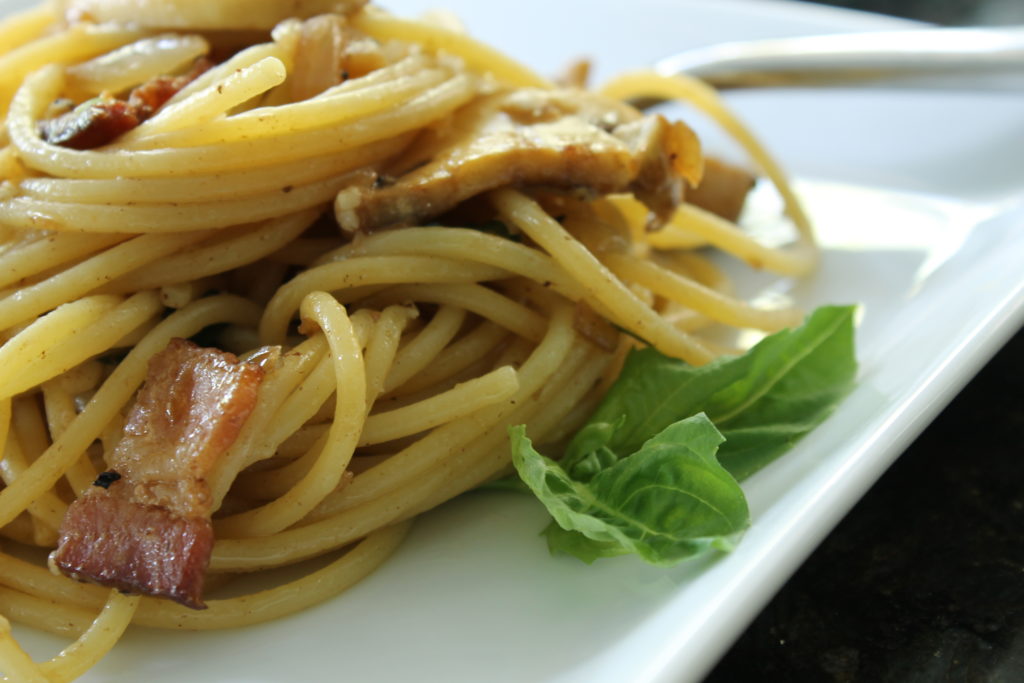 A KEEPER!!!!  Smokey, earthy, savory and a touch of sweet. Did I forget anything? I used thick cut Applegate bacon which set the tone for this amazing dish that pulled together in less than 30 minutes. This pasta would make a nice appetizer or serve as an entrée with a simple side salad of arugula drizzled with balsamic vinegar and olive oil.
Spaghetti with Warm Bacon-Mushroom Vinaigrette
Serves 6
1/4 cup extra virgin olive oil
1 pound sliced bacon, cut crosswise into 1/2-inch strips
1 large onion, finely chopped
8 ounces mixed mushrooms, such as cremini and stemmed shiitake, thinly sliced
2 tablespoons finely grated garlic
Kosher salt and pepper
1/4 cup of balsamic vinegar
1 pound spaghetti, thick
1/2 cup freshly grated Parmigiano-Reggiano cheese, plus more for garnish
1/2 cup thinly sliced basil, plus basil leaves for garnish
White truffle oil, for drizzling (optional)
Bring a large pot of water to a boil. In a large nonstick skillet, heat the olive oil. Add the bacon and cook over moderate heat, stirring occasionally, until golden brown and the fat is rendered, about 8 minutes. Add the onion and cook, stirring occasionally, until softened, about 3 minutes. Add the mushrooms and garlic, season with salt and pepper and cook until the vegetables are tender, about 5 minutes. Stir in the balsamic vinegar.
Add salt to the boiling water. Add the pasta and cook until al dente. Drain, reserving 1 cup of the pasta water. Return the pasta and water to the pot. Add the bacon-mushroom vinaigrette and the ½ cup each of grated cheese and sliced basil and toss over moderate heat until the pasta is evenly coated. Season with salt and pepper. Transfer to plates and garnish with additional cheese and basil leaves. Drizzle with truffle oil if desired and serve.
Adapted from: Food and Wine