Salsa Verde Chicken Enchiladas With Pineapple Avocado Topper
March 5, 2017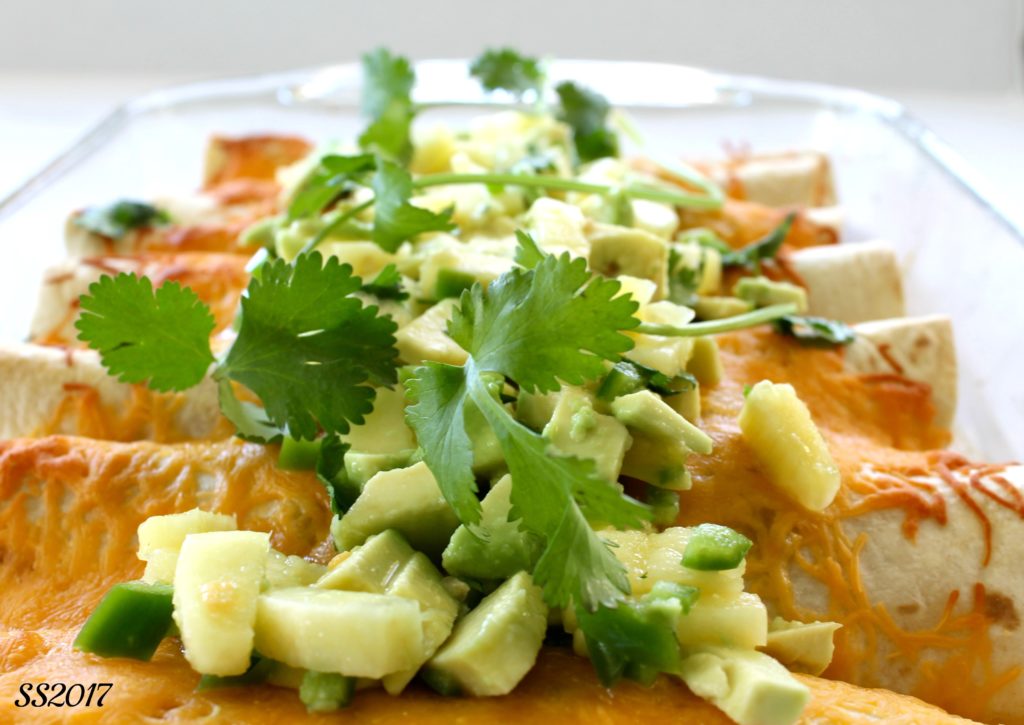 This enchilada recipe will brighten up any winter day. Avocado, lime, pineapple and cilantro are tossed together for a crisp and flavorful topper. The filling: smokey chicken, poblanos, rice and cheese. It's an easy one sheet pan prep. Simply mix, stuff, roll and bake and you've got yourself a healthier, easy enchilada.
Salsa Verde Chicken Enchiladas With Pineapple Avocado Salsa
Serves 6
1 pound boneless skinless chicken tenders or small breasts
2 tablespoons olive oil
2 teaspoons chili powder
2 teaspoons cumin
1 teaspoon smoked paprika
kosher salt and pepper, to taste
1 poblano pepper
2 cups homemade (recipe below) or store-bought salsa verde
1 cup cooked brown rice
1/2 cup fresh cilantro, chopped
10-12 corn or flour tortillas
1 cup shredded cheddar
1/2 cup shredded pepper jack
Pineapple Avocado Salsa
1 avocado, diced or sliced
1 cup chopped pineapple
1 jalapeno, seeded + chopped
juice of 1 lime
1/3 cup fresh cilantro, chopped
Preheat the oven to 350 degrees.
Place the chicken on a baking sheet and rub with the olive oil, chili powder, cumin, and paprika. Season with salt and pepper. Add the poblano (de-seed and cut into slices) to the baking sheet. Transfer to the oven and bake for 20 minutes or until the chicken is cooked through. Shred the chicken with two forks.
Add the shredded chicken and poblano in a bowl. Add 1/2 cup salsa verde, the rice and the cilantro, toss to combine. Pour 1/2 cup of the salsa verde onto the bottom of a 9×13 inch baking dish. Wrap the tortillas in a damp paper towel and microwave for one minute. Spoon a little of the chicken mixture down the center of each tortilla, tuck and roll, placing the tortilla, seam side down, into the baking dish. Pour the remaining salsa verde over top of the enchiladas and then top with the remaining the cheese. Transfer to the oven and bake for 15-20 minutes, until the cheese has melted. Remove and top with the Pineapple Avocado Salsa.
Pineapple Avocado Salsa
In a medium bowl, gently toss together all the ingredients. Keep stored in the fridge for up 2 days.
Salsa Verde (or store bought)
Yields: 2 1/2 cups
This salsa verde recipe is easy to make. Just roast the tomatillos and pepper(s) and blend with a few basic ingredients for a fresh home-made salsa verde.
1½ pounds tomatillos (about 12 medium), husked and rinsed
1 to 2 medium jalapeños, stemmed (omit for mild salsa, use 1 jalapeño for medium salsa and 2 jalapeños for hot salsa, note that spiciness will depend on heat of actual peppers used)
½ cup chopped white onion (about ½ medium onion)
¼ cup packed fresh cilantro leaves (more if you love cilantro)
2 tablespoons to ¼ cup lime juice (1 to 2 medium limes, juiced), to taste
½ to 1 teaspoon salt, to taste
Preheat the broiler with a rack about 4 inches below the heat source. Place the tomatillos and jalapeño(s) on a rimmed baking sheet and broil until they're blackened in spots, about 5 minutes.
Remove the baking sheet from the oven, carefully flip over the tomatillos and pepper(s) with tongs and broil for 4 to 6 more minutes, until the tomatillos are splotchy-black and blistered.
Meanwhile, in a food processor or blender, combine the chopped onion, cilantro, 2 tablespoons lime juice and ½ teaspoon salt. Once the tomatillos are out of the oven, carefully transfer the hot tomatillos, pepper(s) and all of their juices into the food processor or blender.
Pulse until the mixture is mostly smooth and no big chunks of tomatillo remain, scraping down the sides as necessary. Season to taste with additional lime juice and salt, if desired. If you'd like to make creamy avocado salsa verde, let the salsa cool down before blending in 1 to 2 diced avocados (the more avocado, the creamier it gets).
Adapted from: RickBayless