Chicken and Corn Stuffed Poblanos
August 17, 2017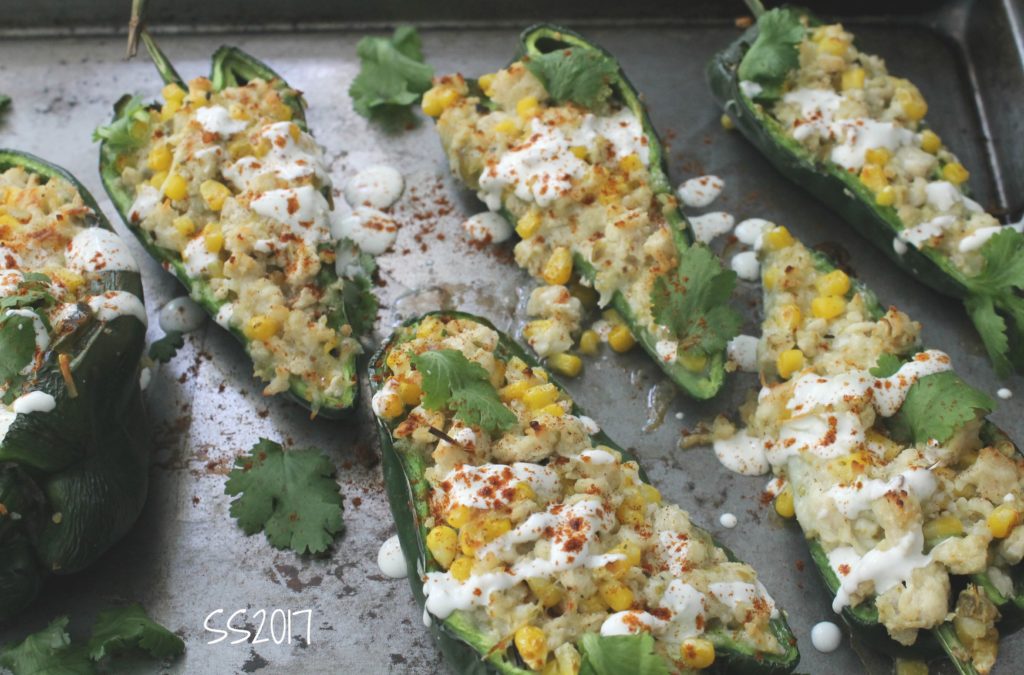 Yet another recipe for that seasonal corn on the cob. These chicken and corn stuffed poblano peppers are packed with flavor…..sweet, smokey with subtle heat. Poblano peppers are mild and the perfect vessel to combine chicken, corn, mozzarella and salsa…..yep, only 4 ingredients! The lime cream adds a brightness and cools the palate.
Chicken and Corn Stuffed Chiles
Serves 4
4 large poblano peppers
1½ cups cooked, ***shredded chicken (rotisserie chicken)
1 cup corn kernels
1½ cups shredded mozzarella cheese
½ cup tomatillo salsa (homemade or store-bought)
2 tablespoons sour cream
1 tablespoon mayonnaise
zest of 1 lime
juice of 1 lime
paprika and fresh cilantro, for garnish
***As you can see in the photos I used ground chicken breast. It was on hand. Use shredded cooked chicken or rotisserie for a smokier flavor.
Preheat the oven to 400 degrees. Cut a wide strip across the top of each pepper to create a "boat". Remove the ribs and seeds from the pepper.
In a large bowl, combine the chicken, corn, cheese, and salsa. Divide the mixture evenly, filling each pepper. Place the peppers on a baking sheet. Roast until the chiles are tender and the filling is browned, about 25 minutes.
While the chiles are cooking, combine the sour cream, mayonnaise, lime zest and lime juice in a small bowl.
To serve, drizzle the chiles with the sauce and sprinkle with paprika and cilantro.
Adapted from: Taste and Tell