Crostini with Pistachios, Ricotta and Olives
October 6, 2017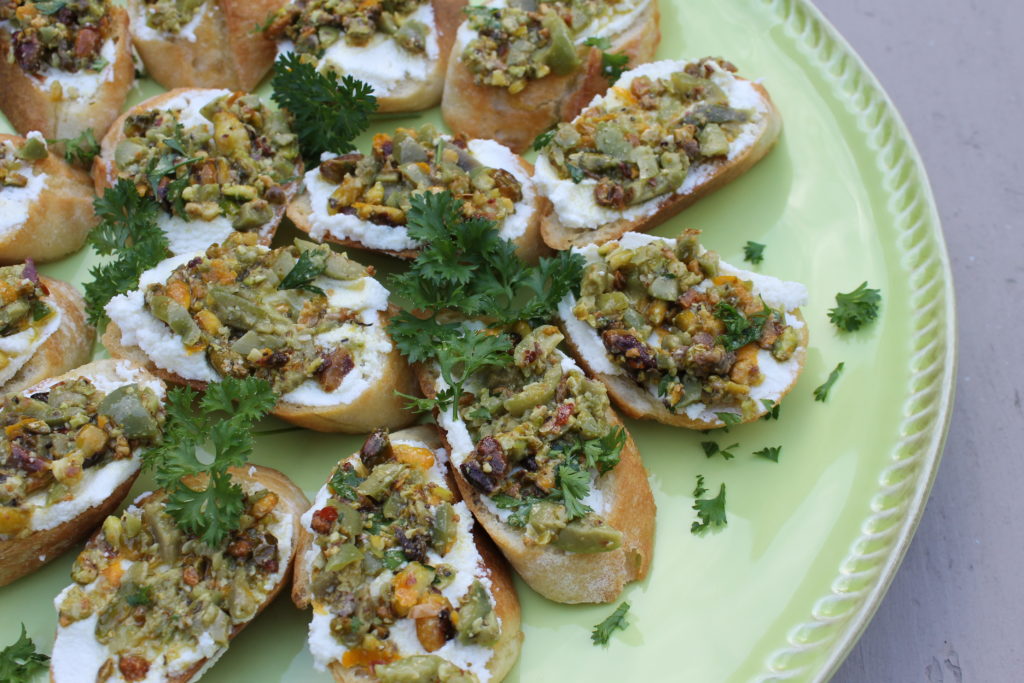 Crostini (mini toasts) are the ultimate party appetizer and are so versatile with an endless combination of toppings. Thanks Kathy for introducing our cooking class to this outstanding version. Every ingredient shines independently but together creates a bright and savory appetizer. The ricotta is light, fluffy and makes the perfect base for the delicious combination of olives, pistachios, anchovies, orange zest and parsley.
Crostini with Pistachios, Ricotta and Olives
Serves 6
3/4 cup ricotta
1/4 cup coarsely chopped toasted pistachios
1/4 cup Castelvetrano or Cerignola olives, pitted and chopped
1/4 cup olive oil, plus more for drizzling
2 tablespoons chopped flat leaf parsley
2 anchovy fillets, minced
Juice of 1/2 lemon
1/2 teaspoon grated orange zest
1/4 teaspoon kosher salt and or to taste
1/4 teaspoon ground black pepper or to taste
Pinch chili flakes
Baguette, sliced diagonally into 1/2 to 3/4 inch thick slices, brushed with oil and toasted. 350 degree oven for approximately 8-10 minutes
In a medium bowl stir together the pistachios, olives, olive oil, parsley, lemon juice, orange zest, salt pepper and chili flakes. Spread a layer of ricotta on the oiled and toasted bread and top with the pistachio mixture.
YEP!!! That's it.
Adapted from: Kathy Harrison ( Franny's Brooklyn, NY