Chocolate Wontons
February 10, 2013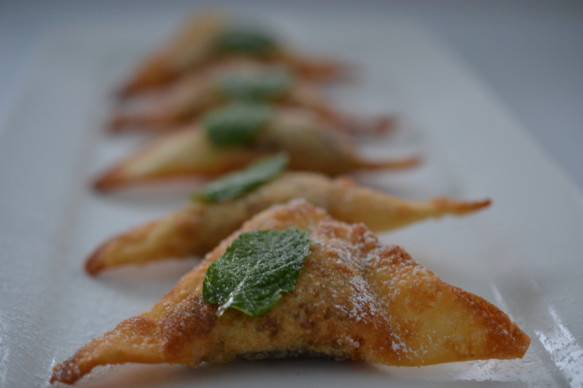 So this morning I was looking in the fridge and saw that the wonton wrappers had an expiration date of… tomorrow. I had Nutella, fruit and bingo….an easy Valentine dessert the kids will LOVE to make. At Common Threads when we "visit China" we make vegetable wontons and the kids have fun putting them together. We do however, bake them! Well, these are getting fried!! Try a slice of banana, strawberry or orange zest to add a depth of flavor. The mint leaf is a delicious addition!
Chocolate Wontons      (adapted by Giada De Laurentiis)
16 wonton wrappers
1 egg, beaten
1 cup Nutella
Vegetable oil, for frying
Mint leaves
Non stick spray
Sugar
Powdered sugar, for dusting
Brush the edges of the wonton lightly with egg. Spoon 1 teaspoon of chocolate into the center of the wrapper. Fold the wrapper diagonally in half over the filling. (Make sure you get the air out and the edges are sealed so the chocolate won't ooze out when you fry it.) Add oil in a heavy fry pan, about 2 inches. Heat the oil over medium heat to 350 degrees. (Test one, then add the rest.) Work in batches, carefully add wontons to the hot oil and cook til they are golden brown, about 45 seconds per side. Using a slotted spoon, transfer wontons to a plate lined with paper towels. Spray the top of the mint leaves lightly with non stick spray. Dredge the coated side with sugar to lightly coat. (This is a fantastic flavor with the chocolate!) Dust with powdered sugar. The wontons can stay warm in a 200 degree oven. Can be made one day ahead (keep airtight in the fridge) rewarm in 375 degree oven for 7 minutes, til warm. However, the wontons are better eaten the day you make them.