Blood Orange Olive Oil Cake
February 28, 2013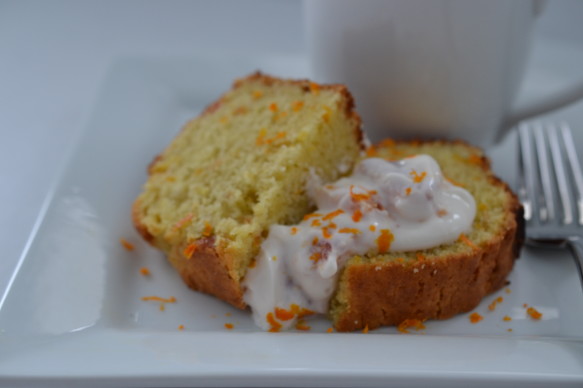 I have never made a cake with olive oil. I certainly have never made a cake with blood oranges. The combination of the two intrigued me. The rich herbal tones of olive oil and blood oranges with their crimson colored flesh and unique flavor profile result in a not-too-sweet, moist and dense cake. This cake comes out with a crisp crust and aroma that will sing throughout your home. Perfect companion for a cup of tea! Does this count as living the Mediterranean diet? Olive oil….fruit?? I think so!!
Blood Orange Olive Oil Cake  (Adapted by In The Kitchen With A Good Appetite by Melissa Clark)
Butter for greasing pan
3 blood oranges   (can't find blood oranges..any variety will do)
1 cup sugar
1/2 cup plain yogurt or buttermilk
3 large eggs
2/3 cups olive oil
1 3/4 cups flour
1 1/2 teaspoons baking powder
1/4 teaspoon baking soda
1/4 teaspoon salt
Toppings: Yogurt (or whipped cream) with orange segments and honey. Garnish with orange zest.                              Or create a glaze with 1 1/2 cups confectioners sugar and 2 tablespoons of fresh orange juice.
Preheat oven to 350 degrees. Butter a 9-by-5-inch loaf pan. Grate zest from 2 oranges and place in a bowl with sugar. Mix. Supreme the orange: Cut off bottom and top so fruit is exposed and orange can stand upright on a cutting board. Cut away peel and pith, following curve of fruit with your knife. Cut orange segments out of their connective membranes and let them fall into a bowl. Repeat with another orange. Break up segments with your fingers to about 1/4-inch pieces. Halve the remaining orange and squeeze juice into a measuring cup, you will have about 1/4 cup. Add buttermilk or yogurt to juice until you have 2/3 cup liquid altogether. Pour mixture into bowl with sugar and whisk well. Whisk in eggs and olive oil. In another bowl, whisk together flour, baking powder, baking soda and salt. Stir dry ingredients into wet ones. Fold in pieces of orange segments. Pour batter into loaf pan. Bake cake for 50 to 55 minutes, or until it is golden and a knife inserted into center comes out clean. Cool on a rack for 5 minutes, then unmold and cool to room temperature. Serve with yogurt (or whipped cream) and orange segments. Garnish with orange zest. OR to prepare a glaze, combine the confectioners' sugar and orange juice in a small pan and bring to a boil, stirring once or twice. Simmer for 2 minutes, then remove from the heat and brush/pour over the warm cake. Let the cake cool completely before serving. Use a serrated knife to slice cake, as the glaze will be hard.
This recipe pulls together so quickly …requires no mixers. Two bowls…1 whisk….1 spoon!!!