Corned Beef And Cabbage Egg Rolls
March 9, 2013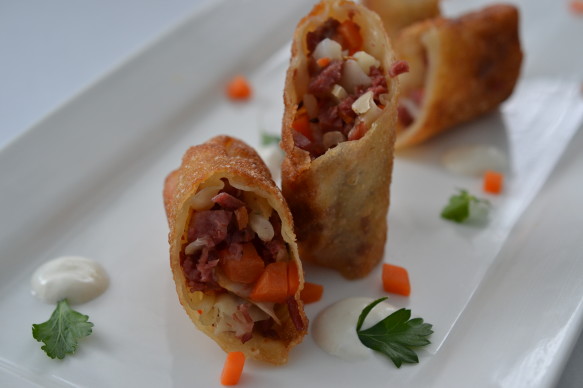 Leftovers!! St. Paddy's Day is over and you're left with day old cabbage, corned beef, potatoes and carrots. Couple of thoughts. Sliders with corned beef, crunchy cabbage/carrot slaw and a mayo-horseradish sauce. Corned beef hash, made into patties and served with poached eggs. OR egg rolls. I pick egg rolls. Hey, I want a fun finger food for our March madness afternoon. (Some people are just mad it's still March…well, we are all about the tournament!) Go IU!!
Corned Beef and Cabbage Egg Rolls  (adapted from the Gourmand Mom)
Makes 4 Egg Rolls ( large or 5 medium)
1 cup leftover corned beef, chopped
2 cups cabbage and carrots, very thinly sliced
Salt and pepper
Vegetable oil
4 egg roll wraps (You can find them in the refrigerated produce section.)
For dipping sauce:   (Adapted from Food Network)
3/4 cup sour cream
3/4 cup mayonnaise
1/4 cup prepared jarred horseradish sauce
1/2 teaspoon grated lemon zest
Salt and pepper, to taste
Combine all ingredients and let rest in refrigerator for at least 30 minutes to marry flavors.
You could also use a spicy dijon (with hint of honey) mustard
For filling: Heat about 1/2 tablespoon of vegetable oil in a pan over medium heat. Add the corned beef, cabbage, and carrots. Cook for 5-7 minutes, stirring frequently, until the cabbage is tender. (if your using leftover cooked cabbage and carrots, just heat in oil for a few minutes til combined and warm) Season with salt and pepper, to taste. To assemble the egg rolls: Arrange an egg roll wrap with one of the points facing you. Place a mound of the corned beef filling in the center of the wrap. Grab the point closest to you and wrap it up and around the filling. Then, grab each of the side points and fold them in towards the center. Brush the points with a bit of water to help them stick. Brush the top point with a little water, then continue rolling up towards the top point. To Cook: Heat about 1/2″-3/4″ vegetable oil in a pan over medium heat. Give it a few minutes to get hot. Carefully place a few egg rolls into the hot oil. They should sizzle when placed in oil. Cook for 2-3 minutes on all sides, until golden brown and crispy. Drain on a paper towel before serving. Serve with sauces noted above.