Oven Braised Artichokes With Lemon And Thyme
April 4, 2013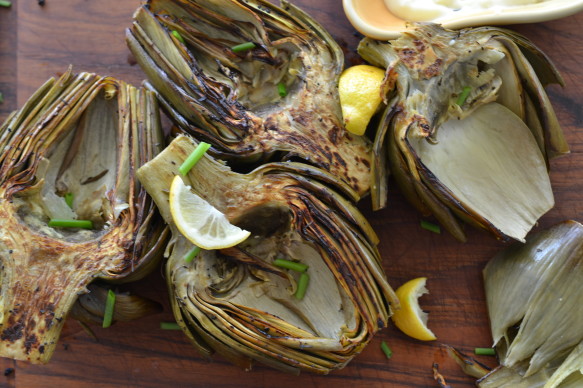 Don't let the preparation of these prickly thistles intimidate you.  Artichokes are in season and this method of  braising is easy. Once you trim the leaves and cut out the choke your work is done. My Mom's typical preparation for artichokes was to steam them. (Always somewhat problematic because of the size of the artichokes, the size of the steamer and the size of our family!) This braising technique solves that problem. Braising the artichokes in water, wine and lemon, they become succulent, soft and tender in just 30 minutes! I love keeping the leaves on the artichoke. It's a messy, earthy way to enjoy it all as you scrape off the inner-portions of the leaves with your teeth….then work your way to the best part, the tender heart!  I paired  these delicacies with garlic aioli.
Artichokes with Lemon and Thyme

Serves 3-4
3 lemons
Zest of 1 lemon
1 cup white wine or more
Water
A few sprigs of fresh thyme
2 bay leaves
3 small garlic cloves, chopped
1 teaspoon salt
½ teaspoon pepper
3 large artichokes
Preheat the oven to 400°F. Rinse each artichoke and trim 1/2 inch off stem and 1 inch off top. Trim each leaf tip with kitchen shears. Cut each artichoke in half  from stem to top. Remove the fuzzy choke with a spoon. Squeeze the juice of one lemon over the flat side of all the artichokes to prevent browning. In a large roasting pan combine, zest of one lemon,  juice of 2 lemons (then add lemons to the pan), 3 cloves garlic, 2 bay leaves, a few sprigs of thyme, salt, pepper, 1 cup white wine, and water (add enough water to cover the artichokes half way up their sides. Cover the pan with a lid or aluminum foil and cook until the hearts are tender when pierced with a knife, 30 to 40 minutes. Remove the pan from the oven, uncover, and let the artichokes cool in the braising liquid. At this point light the grill on high. Lay artichokes flat side down on the grill for just a few minutes. Grilling creates a nice smokey finish. (This step can be omitted.) Garnish with chopped parsley. You can serve warm, or refrigerate and serve chilled.
Garlic Aioli
Makes 2/3 cup
2 garlic cloves,  pressed
1/4 teaspoon salt
1/2 cup mayonnaise
2 tablespoons olive oil
1 tablespoon lemon juice
Mash garlic and salt in a small bowl til it forms a paste. Whisk in mayonnaise, olive oil, and lemon juice. Season with salt and pepper. Can be made one day ahead.