Strawberry Spinach Salad
April 18, 2013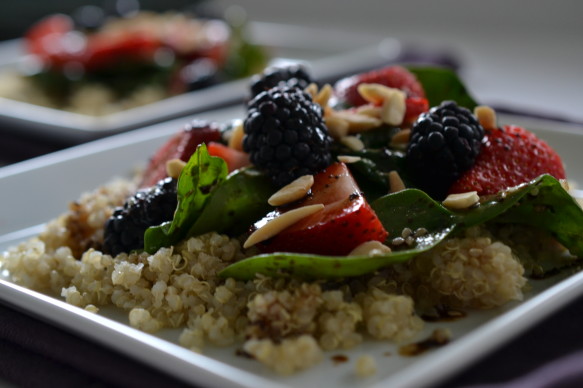 Celebrate the season with strawberries and spinach. This salad may have had its hay-day in the 80's…but really, it's timeless. We all need this recipe for our go-to pot luck dinners. Perfect accompaniment with grilled chicken or pork. I'm  pairing this with quinoa for a vegetarian/gluten-free option.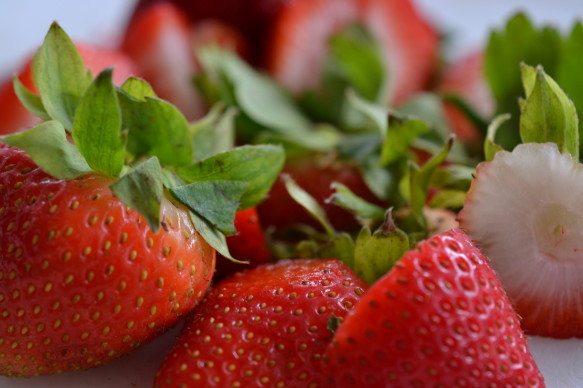 Strawberry Spinach Salad
Serves 4
2 tablespoons sesame seeds
1 tablespoon poppy seeds
1 tablespoon sugar
1/2 cup olive oil
1/4 cup balsamic vinegar
1/4 teaspoon paprika
1/4 teaspoon Worcestershire sauce
1 tablespoon red onion, minced
10 ounces baby spinach, rinsed
1 quart of strawberries, rinsed, hulled, sliced
1/4 cup slivered almonds, toasted
Blue cheese or goat cheese crumbled (optional)
Blackberries (optional)
In a medium bowl, whisk together the sesame seeds, poppy seeds, sugar, olive oil, vinegar, paprika, Worcestershire sauce and onions. (This dressing is the star of the recipe!) Cover, and chill for one hour. In a large bowl, combine the spinach, strawberries and almonds. Pour dressing over salad, and toss. Serve immediately. This salad tends to wilt quickly.