Fish Tacos with Chipotle and Avocado Cream
May 2, 2013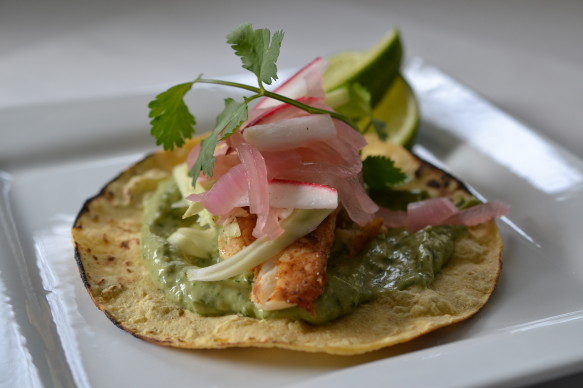 Honestly, I'm using Cinco de Mayo as an excuse to plate up some spicy fish tacos. This is a healthy entree for your weekday fare using pan-fried fish and a yogurt based sauce. The marinade gives the fish a spicy, smokey flavor but you are quickly cooled down with the tangy avocado sauce. Who needs a holiday for this easy, festive dinner? If you plan on having a fiesta you might want to add a few of these sides to your menu planning. Beans and yellow rice, grilled Mexican corn, guacamole/chips, Mexican chocolate cupcakes……oh, and of course Lime Margaritas and ice-cold Coronas!
Spicy Fish Tacos with Avocado-Yogurt Sauce   Adapted from Crumb Blog/ Isabelle Boucher
Serves 2-3 (6 tacos)
Fish
2 tbsp fresh lime juice
2 tbsp extra-virgin olive oil
2 tsp chipotle powder (or chili powder, if you prefer)
1 tsp ground cumin
1 tsp sweet paprika
½ tsp salt
1 lb fresh haddock, halibut, mahi-mahi (or any other firm white fish)
Avocado-Yogurt Sauce
1 large ripe avocado, pitted and roughly chopped
¼ cup plain yogurt
1 tbsp fresh lime juice, or more to taste
½ cup roughly chopped cilantro
¼ tsp salt
¼ cup water
Garnishes:
6 (12 if you double) small corn tortillas
Shredded cabbage
Pickeled red onions (see recipe below)
Cilantro sprigs
Finely julienned radishes
Lime wedges
 In a small bowl, combine the lime juice, olive oil, chipotle powder, cumin, paprika and salt, and stir until smooth. Pat the fish dry with paper towels. Rub on both sides with the lime-chipotle marinade. Transfer to a plate and cover tightly with plastic wrap, refrigerate for 15-20 minutes.
 Avocado-Yogurt Sauce: While the fish marinates, prepare the avocado-yogurt sauce. In the bowl of a food processor, combine the avocado, yogurt, lime juice, cilantro, salt and water, and process until smooth and creamy. Transfer to a serving bowl and cover tightly with plastic wrap. Refrigerate until ready to use.
In a large heavy-bottomed skillet set over medium-high heat, saute the fish in the remaining 2 tbsp olive oil until opaque and flaky, about 4-5 minutes per side. Remove from heat, and transfer to a platter. Using a fork, break up each filet into bite-sized chunks. Cover with foil, and set aside while you warm the tortillas.
Assemble the Tacos: In a heavy-bottomed skillet set over medium heat, warm the tortillas one at a time for 20-30 seconds per side, or until soft and flexible. To assemble, place a few tortillas on each plate and drizzle with avocado-yogurt sauce. Divide the fish evenly between the tortillas, then add additional toppings and serve.
Mexican-Style Pickled Onions    Adapted from Epicurious
1 small red onion, thinly sliced
1 cup cider vinegar
1 tsp salt
1 clove garlic
1 tsp oregano
Blanch the onion slices in a large saucepan full of boiling water for 1 minute, then drain.
Return the onions to the pan, along with cider vinegar, salt and add as much cold water as needed to barely cover. Bring to a simmer and cook for 1 minute.
Pour onions and brine into a container. Smash the garlic clove, and add to the container along with the oregano. Chill in the refrigerator for at least a couple of hours before serving.
Pickled onions will keep for several weeks in the refrigerator –  they make a great condiment and can also be used on your favorite sandwich or with chicken.