Pan Fried Or Grilled Padron Peppers
June 16, 2013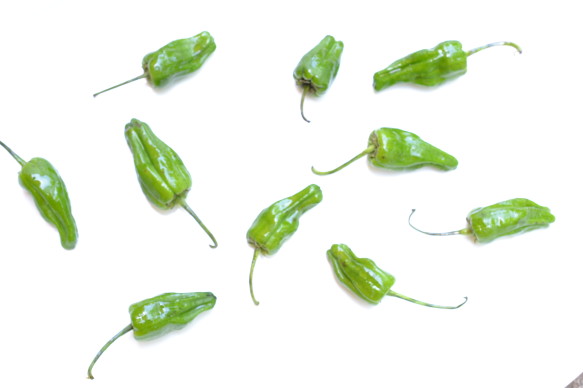 The Padron Pepper makes a very short annual appearance. "Padrones" are small green peppers, native to Spain. They have a bitter-sweet flavor however, about one per dozen (so it is said) will set you on fire!! We discovered Padrones while visiting Scott when he was studying in Barcelona. Playing "pepper roulette" was a nightly game. No one got seriously burned. Preparing this healthy snack couldn't be easier. When nicely charred hold by the stem and pop them in your mouth. Good luck!!
Roasted Padron Peppers
1/2 pound Padron peppers. washed and dried
2 tablespoons olive oil
Course salt
Place peppers in a medium bowl and add olive oil. Toss to coat, set aside. Heat a non stick pan and cook peppers for 5-6 minutes (stir) until the skins begin to blister. ( You can also use a grill.) Remove and sprinkle with salt.