Moscow Mule
June 30, 2013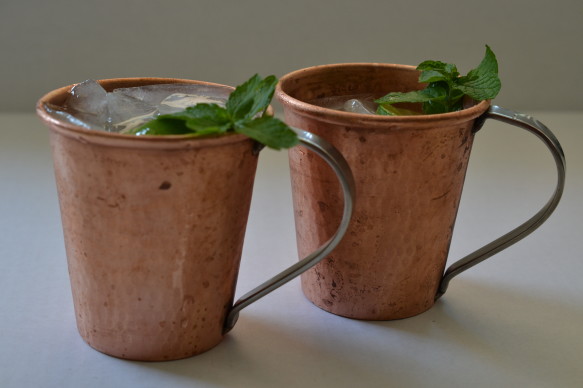 What's old is new again. Being introduced to this refreshing cocktail has put me on a "bender" of sorts. A few weeks ago we watched the Hawks game at our good friends'  home (Tom and Maureen) and they served us Moscow Mules. They were delicious. We are superstitious.  So this became THE  drink to bring the cup home to Chi-town. Randy and I traveled to our various Hawks game venues with The Mule. On Saturday this drink showed up at my Mom's. The first sip had her talking about her job in the 40's and where she would go to drink Moscow Mules in copper cups after work. It triggered such a memory boost that I looked at Randy and said "who is this women"??? All new news to me!!
Back in 1941, gin was the predominant liquor and vodka was a bit of an after thought. John G. Martin was the president of a large East Coast distributor of food and spirits who had recently acquired the rights to distribute Smirnoff vodka in the United States. Jack Morgan was the owner of the Cock 'n' Bull Tavern on the Sunset Strip and distributor of  ginger beer. These two, along with the president of Smirnoff,  met in New York to come up with an idea to move their products.  A basket of limes was added to the mix along with ginger beer and vodka, and The Moscow Mule was born.
Thanks to a resurgence of all things nostalgic, the Moscow Mule is making quite a little comeback. And thanks to "the Mule" we now are the proud caretakers of the 2013 Sir Stanley Cup!!!!!!  You're welcome.
Moscow Mule
1 half lime
2 ounces vodka
4 to 6 ounces ginger beer