Rustic Heirloom Tomato Tart
August 29, 2013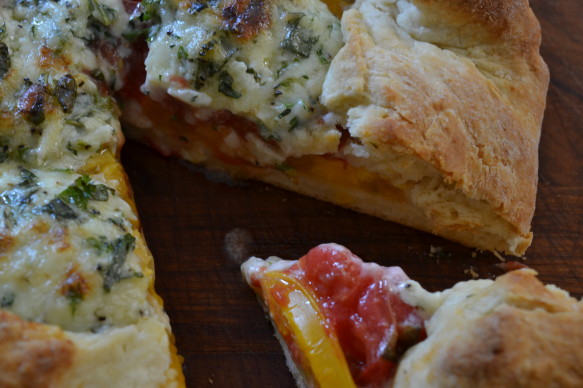 Tomatoes are abundant right now…..so make the most of these summertime jewels. This recipe is a twist on the Southern tradition of tomato pie. Layer your tart with heirloom tomatoes and dollop with an herbed cheese mayo and you have a savory and robust side to a summer meal or add a side salad for a light lunch. Another idea for all those tomatoes…… try this tart using caramelized onions and gruyere.
Rustic Heirloom Tomato Tart          (adapted from Fine Cooking)
1/4 cup semolina flour
1 recipe Buttermilk Biscuit Dough  (recipe below)
All-purpose flour, for rolling out the dough
3 to 4 medium ripe tomatoes (1-1/2 lb. total), preferably heirloom, cored and sliced crosswise 1/4 inch thick
Kosher salt
2 oz. coarsely grated Gruyère (about 2/3 cup using the large holes of a box grater)
1/3 cup mayonnaise
1/4 cup finely chopped mixed fresh herbs (parsley, basil, and chives)
1 teaspoon finely chopped fresh oregano or marjoram
Freshly ground black pepper
Pre-heat oven to 425°F. Sprinkle a 12×17-inch sheet of parchment with 2 tablespoons of the semolina flour. On the semolina, pat the biscuit dough into a 5-inch round. Using a rolling pin, roll the dough into a 13-inch round, lightly dusting with all-purpose flour to keep the dough from sticking.
Transfer the dough on the parchment to a large rimmed baking sheet. Sprinkle the remaining 2 tablespoons semolina flour over the dough, leaving a 1-1/2-inch border.
Arrange the tomatoes over the dough in two flat, slightly overlapping concentric circles, lightly salting each circle as you go.
Combine the cheese, mayonnaise, herbs, and pepper in a small bowl. Dollop in generous tablespoons over the tomatoes. Fold the dough border over the edges of the tomatoes, pleating the dough as necessary.
Bake until the crust is golden-brown and the tomatoes are tender, 20 to 25 minutes. Let cool on a wire rack until warm, about 30 minutes, before cutting into wedges and serving. You can also serve it at room temperature.
Buttermilk Biscuit Dough
1 3/4 cups unbleached all-purpose flour (more if needed)
2 teaspoon baking powder
1 teaspoon granulated sugar
1/2 teaspoon baking soda
1/2 teaspoon table salt
6 tablespoons cold unsalted butter, cut into 1/2-inch pieces
3/4 cup cold, well-shaken buttermilk
In a large, wide bowl, combine the flour, baking powder, sugar, baking soda, and salt. Using your fingertips, cut in the butter until the mixture resembles coarse meal with some pea-size lumps.
Using a spatula, stir in the buttermilk just until the flour mixture is moistened. Do not overmix; the dough should just come together, and it will be sticky.
Transfer the dough to a floured work surface and gently knead 6 to 8 times, dusting lightly with flour if needed to keep it from sticking.