Grilled Pear, Brie And Prosciutto Sandwich
September 19, 2013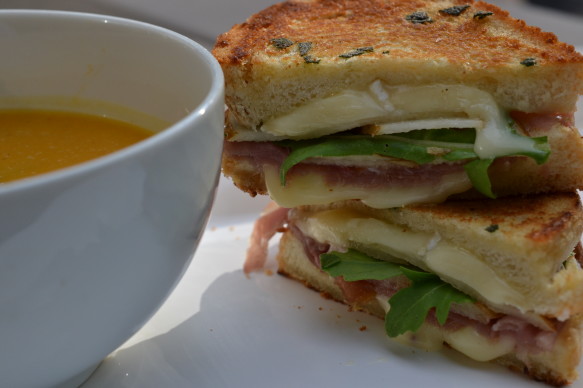 When the air turns crisp and the leaves start to change, I think comfort food. On a chilly Saturday afternoon, I whipped up a flavorful soup pairing it with a dressed up grilled cheese. Take the combination of sweet, creamy brie and pear, savory prosciutto, a bit of honey mustard, finished with a peppery note of arugula and you've got yourself a grilled cheese sandwich which screams… FALL!. Add soup …..oh, any will do, but try this easy, delicious butternut squash (recipe here) and welcome this magical season.
Grilled Brie, Pear And Prosciutto Sandwich
1 tablespoon butter, room temperature
2 sage leaves, minced
1 ripe pear, sliced (use about half)
2 slices prosciutto
4 slices of brie
Grainy mustard
Honey
2 pieces of country bread, sliced
Mix sage with butter. Spread half the butter on one side of bread. Take a few tablespoons of grainy mustard and add 1 teaspoon of honey (or to taste). On the non buttered side, spread a bit of honey mustard. Layer with cheese, pear, prosciutto, brie. Butter the other slice of bread. Spread with a bit of honey mustard. Top the sandwich. Heat skillet to med-high. . Put a skillet on the stove-top and turn the heat on medium. When it's warm, put the sandwich in the skillet, heat til browned. Flip to the other side, let cook for a few minutes til browned.