Gruyere and Pepper Cookies
December 14, 2013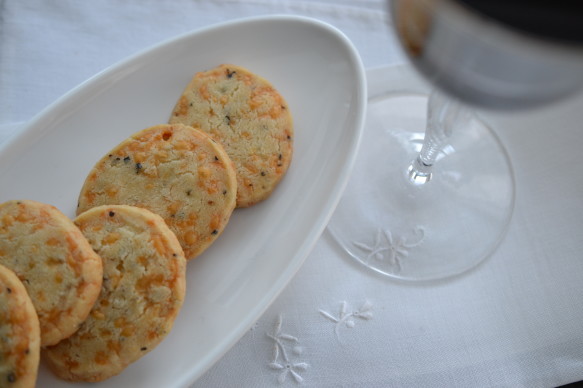 This savory cookie is just what your red wine (or champagne) ordered. The Gruyère cheese has a nutty rich flavor and the pepper gives this appetizer a nice kick. Make the dough now (you can freeze up to 2 months) and have these ready to go for the holidays. 
Gruyere and Black Pepper Cookies  (Adapted from Sassy Radish)
2 cups all-purpose flour
8 ounces unsalted butter, softened
8 ounces (2 cups) Gruyere, freshly grated
2 teaspoons freshly ground black pepper and salt for finishing
Preheat oven to 350. In the large bowl of a stand mixer (set at low-speed), beat the flour, butter, Gruyère, and black pepper until stiff dough forms. For a couple of minutes, the dough will look dry and will not come together; keep mixing and you will see it form into a ball. Divide the dough into 3 pieces, and roll each piece into a 9-inch log, about 1 1/2 inches in diameter. Chill the dough, in the refrigerator, for about 1 hour – it will make the slicing easier. OR you can freeze the dough for up to 2 months. Let the dough sit 15 minutes at room temperature before slicing.
Slice the logs into 1/3″ thick cookies and arrange the slices on 2 large baking sheets. Sprinkle a bit of kosher salt on each cracker. Bake for 15 to 18 minutes or until the turn golden brown around edges, rotate the pans halfway through baking for even browning. Let the cookies cool for 10 minutes, before transferring them to a wire rack to cool completely. Makes approximately 60 cookies.
Store the cooking in an airtight container for up to 5 days.