Slow-Cooked Kale Omelettes
December 31, 2013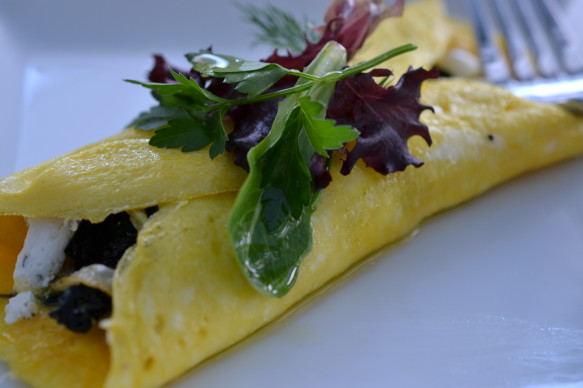 Sprouted Kitchen is one of my favorite blogs. Sara and Hugh won Saveur's best blog for original recipes 2012. Their recipes are creative and healthy and I'm sure you will agree with me that Hugh's photography is breathtaking. I knew the site would be a a great source for a nutritious New Year's breakfast. The bitterness of the kale balances the sweetness of the onions and the goat cheese provides a creamy finish. I love the idea of a VERY thin omelette to wrap up all the ingredients. My first attempt was without a non-stick pan and the result was less than perfect. No worries…it tasted great and I was happy to make this recipe again!!!
SLOW-COOKED KALE OMELETTES       (Adapted from Bon Appetit via Sprouted Kitchen)
Makes 4
1 heaping pound kale, ribs remove
1/4 cup extra virgin olive oil
2 sprigs rosemary
1/2 teaspoon sea salt, or more to taste
1/2 teaspoon red chile flakes
1 cup sliced yellow onion
2 large garlic cloves, thinly sliced
2 Tbsp. ghee (clarified butter) or more olive oil
Fresh ground pepper
8 extra-large eggs
1/4 cup whole milk
6 ounces soft goat cheese
Bring a large pot of salted water to a boil. Blanch the kale for 1 1/2 minutes, drain, let it cool, and squeeze out excess water. Chop up and set aside.
In a large skillet, warm the ghee or olive oil over medium heat. Add the rosemary sprigs cook for one minute. Reduce the heat to low, add the onion and salt, cook for two minutes, and then add in the garlic. Cook for about 6 minutes until the onions are soft and starting to brown.
Turn the heat to medium-low, add the kale and ghee(claified butter) or oil, stir to coat. Cook for 25-30 minutes, stirring occasionally until the kale is almost black and charred at the edges. Remove the rosemary sprigs. Sprinkle some fresh ground pepper, taste for salt, and set aside.
Heat a 10" pan over medium-low heat add a small pat of butter or ghee. For each omelette, beat 2 large eggs with a Tbsp. of milk. Add the eggs to the pan and let them cook for about a minute and a half. Use a spatula to lift up one corner of the eggs, tilt the pan, and let the liquid egg on top, run underneath. When the omelette is mostly set, put a few spoonfuls of the kale down the center and a generous sprinkle of goat cheese on top. Gently fold the omelette into thirds and slide it onto a plate. Repeat with remaining omelettes.
Serve with a handful of fresh greens on top and some crusty toast.