Chicken Tortilla Soup
January 17, 2014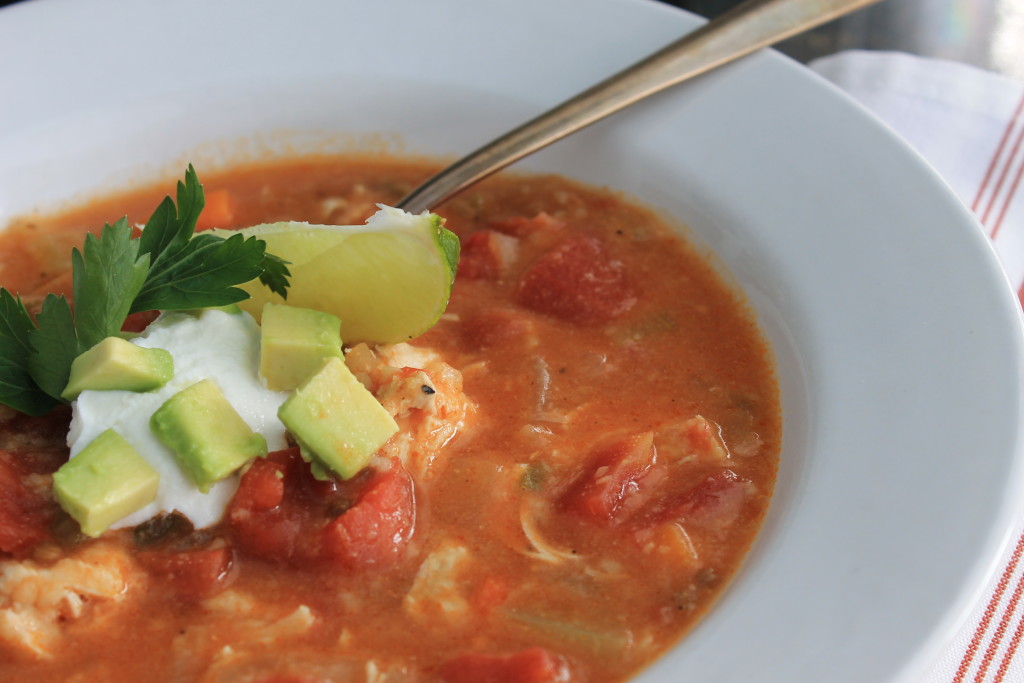 Short of soaking in a warm bubble bath, not many things can warm you to the core like a great bowl of soup. This tortilla soup with its bold southwest flavors and spicy, smokey notes will no doubt do the trick. Make this bowl of comfort your own and garnish with any variety of toppings….avocado, sour cream, tortilla strips, cilantro and/or squeeze of lime.  Let's celebrate "soup month" with this hearty and healthy soup.
Chicken Tortilla Soup     (Adapted from Ina Garten)
Serves 6-8
4 split (2 whole) chicken breasts, bone in, skin on
Olive oil
Kosher salt and pepper
2 cups onion, chopped (2 onions)
1 cup celery, chopped (2 stalks)
2 cups carrots, chopped (4 carrots)
4 large cloves garlic, chopped
2½ quarts chicken stock
1 (28-ounce) can whole tomatoes in puree, crushed
2 to 4 jalapeno peppers, seeded and minced
1 teaspoon ground cumin
1 teaspoon ground coriander seed
¼ to ½ cup chopped fresh cilantro (optional)
6 (6-inch) fresh white corn tortillas
Preheat the oven to 350 degrees. Place the chicken breasts skin side up on a sheet pan. Rub with olive oil, sprinkle with salt and pepper, and roast for 35 to 40 minutes, until done. When the chicken is cool enough to handle, using two forks, shred the meat. Cover and set aside. Meanwhile, heat 3 tablespoons of olive oil in a large pot or Dutch oven. Add the onions, celery, and carrots and cook over medium-low heat for 10 minutes, or until the onions start to brown. Add the garlic and cook for 30 seconds. Add the chicken stock, tomatoes with their puree, jalapeno, cumin, coriander, 1 tablespoon salt, 1 teaspoon pepper, and the cilantro, if using. Cut the tortillas in half, and then cut them crosswise into ½-inch strips and add to the soup. Bring the soup to a boil, then lower the heat and simmer for 25 minutes. Add the shredded chicken and season to taste. Serve the soup hot topped with sliced avocado, a dollop of sour cream, grated Cheddar cheese, and broken tortilla chips or (*baked). *Brush tortilla strips with olive oil and sprinkle kosher salt. Bake in a 325 degree oven for approximately 15 minutes, until they start to crisp.