Braised Beef Shank
January 27, 2014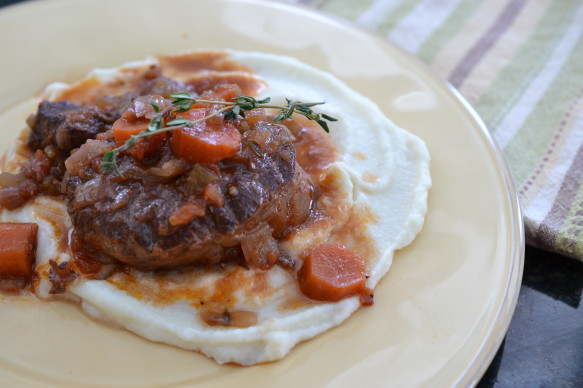 Baby it's COLD outside. No… I mean really really cold outside. -4 degrees with a wind chill of -30 to -40!!!!!!! These extreme conditions are perfectly suited for slow braised meats. This peasant-style cooking is sure to create a food flashback from your childhood (mine….dressed like Ralph in Christmas Story). The inexpensive, incredibly delicious beef shank will fill your home with a warm, comforting aroma in no time. Braising is nothing more than cooking the meat over low heat in a small amount of liquid, into which herbs and vegetables have been added. The result is a tender and flavorful fall-off-the-bone bowl of YUM, perfect for a cold winter's night. Serve with celery root mashed potato puree.
Braised Beef Shank
Serves 4
3 tablespoons olive oil
3-4 pounds beef shank
Salt and freshly ground black pepper
2 onions, chopped
2-3 medium carrots, finely chopped
2 celery stalks, finely chopped
2 cloves garlic, minced
4 thyme sprigs
2 rosemary sprigs
3 bay leaves
2 cups red wine
2 cups beef stock
1- 150z can San Marzano whole peeled tomatoes with juices, chopped or  blended
Heat the oven to 325 degrees. Put the oil in a large pot over medium-high heat. Add meat. Sprinkle with salt and pepper. Cook until the meat is browned on all sides, about 10 minutes. Transfer meat to a plate.
Lower the heat to medium. Add the onions, carrot and celery, sprinkle with a little salt and pepper, and cook, stirring occasionally, until the vegetables begin to soften, 5 to 10 minutes. Add garlic, thyme, rosemary and bay leaves. Cook for 2 minutes.
Stir in the wine, scraping up any browned bits from the bottom of the pot. Add stock and tomatoes.  The braising liquid should come about halfway up the sides of the meat.  Raise the heat and bring to a boil. Cover the pot and transfer to the oven. Cook until the meat begins to get tender approximately 4 hours. The braise is done when the meat is very tender and almost falling apart.
Take the shanks out of the pan and set aside. Discard bays leaves and sprigs. Bring braising liquid to a boil and reduce for approximately 15 minutes. Plate with potato puree, top with shank and sauce. Garnish with chopped parsley.