Meyer Lemon and Ricotta Pancakes with Blueberry Compote
April 12, 2014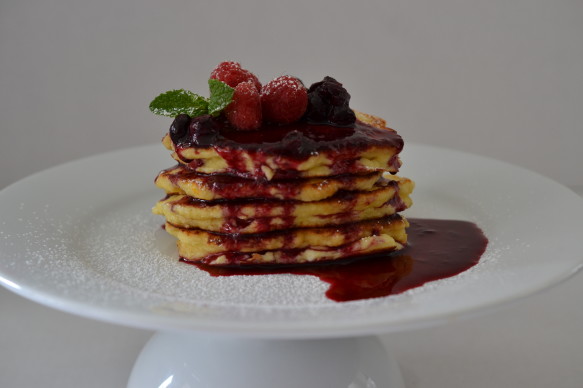 When you think of ricotta…what comes to mind? Yep, me too…lasagna. However, ricotta's creamy light texture suggests many other applications. Try lemon and ricotta. This classic combination is a perfect pair when whipped together in a pancake. Combining whipped egg whites, flour and Meyer lemon creates delicate, souffle-like cakes. Meyer lemons are soft-skinned, sweeter, less acidic with a floral aroma and pair perfectly with these pancakes. Top the stack with this easy blueberry compote. Leftovers????…you may want to save a few for a quick dessert. Re-heat with a bit of butter to crisp up and top with lemon ice cream. Garnish with zest and few berries.
Meyer Lemon and Ricotta Pancakes  (adapted from Smitten Kitchen)
Makes 8-9 pancakes
1/2 cup all-purpose flour
1 teaspoon baking powder
big pinch of salt
1 1/2 tablespoons sugar
1 1/3 cups firm ricotta
4 eggs, separated
3 tablespoons Meyer lemon zest (roughly 2 lemons)
2 tablespoons Meyer lemon juice
butter for frying the pancakes
Preheat your skillet or griddle over medium-low heat. In a medium bowl, combine the flour, baking powder, salt and sugar. In a separate bowl, lightly beat the egg yolks and then add the ricotta, juice and zest. In another bowl, beat the egg whites to soft peaks. Fold the cheese mixture into the flour and stir just until combined. Then gently fold in egg whites, making sure they are evenly mixed into the batter. Heat your oven to 200 degrees. Add a pat of butter to the skillet or griddle, and pour 1/3 cup of batter for each cake. Cook the cakes for 3-4 minutes on each side, until the edges are a deep golden brown. Place the cooked cakes in the oven until you are ready to serve. Serve the pancakes dusted with confectioners sugar and blueberry compote.
Blueberry Compote  (from Epicurious)
1/2 cup water
1/2 cup sugar
2 strips of fresh lemon zest
2 cups blueberries
1 1/2 tablespoons fresh lemon juice
Boil water, sugar, and zest in a 1-quart heavy saucepan, uncovered, 5 minutes. Discard zest. Stir in blueberries and simmer, stirring occasionally, until blueberries begin to burst, 3 to 5 minutes. Remove from heat and stir in lemon juice. Serve warm or at room temperature.